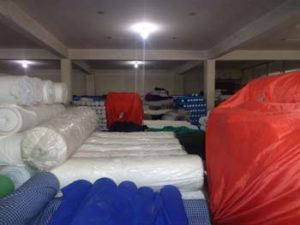 Inventory Management in Textile Apparel Industry 
Inventory Management in Textile Apparel Industry 
Inventory :
Inventory is a raw materials work in process, component or finished parts; and finished products held in storage waiting use for sale or in the process manufacture. Inventory control means the accurate calculation and data of every type of raw materials, spares, finished goods in time to time in the store.Store is a place where every type of raw materials, spares, finished goods are kept in proper system. Inventory control is necessary for effective running of the production.
Importance of inventory:
Somehow, a particular color size of fabric or accessories become shortage because of not sending fabric / accessories as per buyer order by supplier. If receiver does not examine this item at the initial stage, the production becomes hampered. So we can avoid this kind of situation by doing inventory. So inventory is very much important for buyer / receiver.
We can utilize old orders remaining fabric/ accessories which is already have in our storage of information which is done by inventory .
Understanding what you have, where it is in your warehouse, and when stock is going in and out can help:

Lower cost
Speed up fulfillment
Prevent fraudulent

Your company may rely on your inventory control system to access your – Current assets.

Balance your accounts.
Provide financial reporting

Inventory control is also important to maintaining the right balance of stock in your warehouses. You don't want to lose a sale because you didn't have enough inventory to fill an order.
Constant inventory issues can drive customers to other suppliers entirely. The bottom line? When you have control over your inventory, you're able to provide better customer service. It will also help you get a better, more real-time understanding of what's selling and what isn't.
You also don't want to have excess inventory taking up space in your warehouses unnecessarily. Too much inventory can trigger profit losses––whether a product expires, gets damaged, or goes out of season. Key to proper inventory control is a deeper understanding of customer demand for your products.
Frequency Update :
Monthly inventory
Annual inventory
Inventory Procedure :
Goods are checked against purchase order
Upon receipt, they are to be tallied against the truck challan.
Material receiving and inspection report(MRIR) is prepared. Received quantity is mentioned and noted down.
Inspection of minimum of 10% of the goods received covering all colors.
Stored in a designated location based on the production plan process.
The stock ledger is to be updated in the computer and in the bin card.
A trim card is to be prepared upon completion of the inventory.
Trim and Swatch Card Making :
It carries detail information about required trims & accessories for a particular style. A trim card also carries information about fabric swatches and status like, fabric name, color etc. It is also consisted of detailed information of accessories like thread count, button color and line no.
Trim and Swatch Card Making Issues:
As soon as the trim card is prepared and approved by the merchandising manager, fabric can be issued to cutting section.
Thread is issued to the production lines as per the approved consumption.
Sewing accessories such as main label, care label etc. are issued to the production line.
Finishing accessories such as hang tag poly bags etc. are issued to the finishing department as per the cutting report.
Stationary and other consumable are issued after approved to the concerned departments
Goods are issued following the FIFO system
Stock Condition Assessment of Inventory:
Any item found damaged or deteriorated is segregated and disposed off accordingly.
Concerned departmental heads are consulted to asses if the goods can be used or not
List of obsolete /unusable items is prepared and submitted to the director for disposable
There are different inventory systems for different raw materials for different textile industries.
Working flow chart of a typical store section

:
Unload fabric/accessories for transport as per packing list
⇓
Inspection of fabric & accessories
⇓
Bar code scanning of accessories
⇓
Making inventory as per packing list
⇓
Make report & swatches and send to concern merchandiser for approval
⇓
Keep stock resister as per L/C & order by using bin card
⇓
Supply all reports of cutting section
⇓
Supply fabric to cutting room as per approval requisition & consumption
⇓
Update daily issue requisition
⇓
send all fabrics details to head office
⇓
Keep all supplier's information & monthly statement of fabric received & balance
(2)