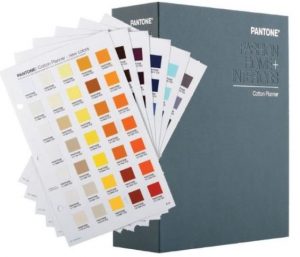 Objectives of a dyeing lab | Pantone book | Lab Dip development procedure
Objectives of a dyeing lab |

Pantone book |

Lab Dip development procedure
LAB section
Lab section in dyeing is the first major segment of a dyehouse despite of its size compared to the production floor. Lab is where the "lab dips" are prepared and the final recipes for bulk dyeing is constructed. A lab dip is a colored sample, the manufacture of which is closely monitored by the lab in-charge, produced by a dyeing lab in order to closely match a buyer's standard shade or dyed fabric swatch. If approval or acceptance is gotten from the buyer, this is used to run production on a bulk scale.
Objectives of a dyeing lab:
Develop a lab dip according to a buyer's required shade or given swatch using available dyes, auxiliaries and fabrics available in the inventory.
Get color approval from the buyer by sending the samples of the closely matched lab-dip dyeing.
Generating recipes according to buyer-approved shade with appropriate cost optimization and minimum deviation between lab and bulk dyeing.
Provide the buyer-approved recipe to the dyeing section for proceeding to bulk dyeing
Purity testing; checking strength of dyes and auxiliaries regularly
Physical and chemical testing
Lab section is divided into two main parts- Chemical Lab & Physical Lab. The process of Lab-dip preparation is done in the chemical lab. The physical lab contains all the necessary equipment needed to perform all tests that are necessary for quality assurance of the produced fabric. The physical lab is separated from the chemical lab as a constant humidity needs to be maintained there.
Pantone book:
From the code number of registered pantone books, buyers can select a color as their "standard" or "swatch". Pantone allows various manufacturers in different locations to make use of this system in order to make sure their product colors will match without having to directly contact one another.
Lab Dip development procedures in knit dyeing:
LDRL received from merchandizer with buyer's given swatch/ pantone/ reflectance data as standard
⇓
Keeping record in LDRL file as well as register book
⇓
Assessment of the shade for recipe making and making recipe by using spectrophotometer
and/ reference shade
⇓
Developing lab dip according to buyer's requirement under specific light source
⇓
Closest lab dip options are sent to merchandizer with marking A, B, C, D… etc and for each and every new color
⇓
If necessary, spectrophotometer pass/fail report is attach with lab dip and QTX file is sent my mail
⇓
After getting approval/ comments from buyer by mail, marking the option
⇓
If any shade is rejected by buyer, then redeveloping by following buyer's comment and send for approval
Recipe Formulation:
Buyer provides fabric sample, spectral value, colour code or pantone number from which
required colour and shade can be identified. Multiple recipes are then formulated using a
spectrophotometer with selective colour brands and samples are dyed in order to match
the buyer shade. Then the most closely matched samples are sent for buyer confirmation.
Fig : Spectrophotometer
List of light sources for different buyers
Light boxes are used to match the shades of the dyed samples and the buyer provided samples in every step of the lab-dip preparation as well as in production. Different buyer asks for valuation of the fabric in different light sources. The following list shows the varying buyer-required light sources that Azad Rifat Fibers (Pvt.) Ltd.. Works with every day .
 Different light-source requirements of buyers
Buyer name
Light source
Primary
Secondary
Decathlon
F11
D-65
Express
INCA-A
CWF
Grey State
D-65
CWF
Matalan
F11
D-65
American Eagle
D-65
INCA-A
Next
D-65
F-11
Zara
TL-84
D-65
Talbots
CWF
D-65
Kik
D-65
TL-84
Morrisons
D-65
TL-84
Primark
D-65
TL-84
LIDL
D-65
TL-84
B&C
D-65
TL-84

Fig : Shade matching in a light box
Read More :