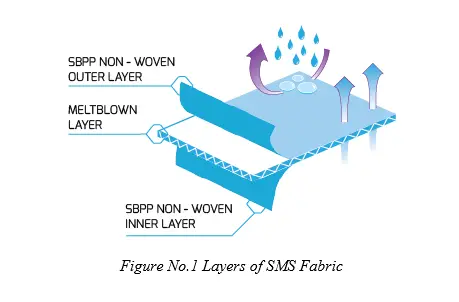 Surgical Gowns Using SMMMS Method
Surgical Gowns Using SMMMS Method
---
ABSTRACT
Surgical Gowns are hospital gowns worn by medical professionals as personal protective equipment (PPE) in order to provide a barrier between patient and professional. A medical product according to Standard EN 13795.Surgical gowns are medical products. As such, they have to fulfil the basic demands stipulated in the standard series. Their relevant properties, such as a Barrier effect, Antistatic, low particle release rates, strength and Alcohol repellency are stipulated in high performance medical product. Surgical gowns may be constructed of either single-use or reusable materials. Each of these has advantages and disadvantages, which depends on the fabric construction and performance characteristics of materials. Synthetic fibers such as polypropylene and polyester are commonly used in the construction of surgical drapes and gowns. Antimicrobial nonwoven fabrics were prepared by directly incorporation of a qurternary ammonium salt namely, ethyl trim ethyl ammonium bromide, on polyester and polypropylene and viscose nonwoven fabrics. 
Keyword: SMMMS, Nonwoven, Surgical Gowns, Polypropylene, Barrier Properties
INTRODUCTION
The world Nonwoven Textile Industry in 2020 has experienced the most potent growth of USD 40.5 billion and it may be increase to USD 53.5 billion in 2025. SMS is widely used in production of hygiene products (feminine sanitary pads, baby diapers), disposable towels, wipes, etc. The structure features allow the upper layer to absorb moisture and keep it maintaining air permeability. SMS is also widely used in medicine in production of bed linen, protective clothing, and surgical masks. It consists of 100% polypropylene fibers. Its distinctive feature is the presence of melt blown material between two layers of spun bond. This is high coverage non-woven Fabric. Its low weight, High longitudinal and transversal strength and soft feel make it suitable for use in the medical and hygiene industry. It can be given special treatment to give it certain properties. SMS Fabric is a Medical SMS Fabric made of Polypropylene. This is a unique trilaminate construction that offers a high tensile strength and toughness that is also soft, trappable, and easy to work with.[1]
INDA, North America's Association of the Nonwoven Fabrics Industry, describes nonwoven fabrics as sheet or web structures bonded together by entangling fibers or filaments, by various mechanical, thermal and/or chemical processes. These were made directly from separate fibers or from molten plastic or plastic film.
EDANA, (The European Disposables and Nonwovens Association) defines a nonwoven as 'a manufactured sheet, web of directionally or randomly orientated fibers, bonded by friction, and/or cohesion and/or adhesion.[2]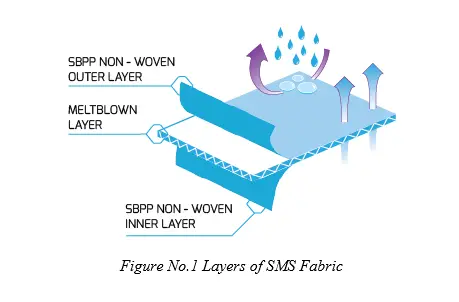 General
3M recognizes that different jobs require different levels of protection. This is why the range of 3M Protective Apparel is diverse, and designed to provide options for Medical application. Spun bond nonwoven fabrics are composed of continuous filaments produced by an integrated fiber spinning, web formation and bonding process. As it eliminates intermediate steps, it is the shortest textile route from polymer to fabrics in one stage and provides opportunities for increasing production and reduction of cost. In the recent past spun bond nonwovens have developed rapidly due to their excellent properties and high process efficiency. Presently it occupies the largest share among the various techniques of nonwoven fabric manufacture and finds application in different fields like diapers and incontinence products, auto motives, geotextiles, civil engineering, medical and packaging.
History of SMS Fabric
In the early 1900s the first surgical gowns were introduced as 2 sterilized pieces of lightweight fabric. These garments reached the floor and had elbow length sleeves. They were worn with neither gloves nor masks. In the 1920s gowns began to be constructed of muslin, which was viewed as barrier material. In 1939, concerns were raised about the evident fluid penetration with muslin. So rubber was applied to increase the barrier and sleeves were extended to ¾ length but such gown were uncomfortable. The technology was developed simultaneously in Europe and United States in the late 1950s but its potential for commercial applications was recognized only in 1960s. SMS nonwoven fabric is mainly manufactured in North America, Europe, Japan, China, and Saudi Arabia. However emerging markets are India, Russia, Brazil, Egypt, Thailand and Indonesia. Major importing countries of these products are China, Germany, Mexico, Japan, Poland, USA, Canada, UK, France and Turkey.[3]
Aim : 
To Enhance Hydro-head Properties of Surgical Gowns.
To Improve Barrier Properties of Surgical Gowns.
To Protect Doctor or Patient form the harmful infection and viruses.
"SMS" stands for spun bond melt blown spun bond. This is a type of nonwoven fabric that combines spun bond and melt blown fabrics. When SMS material is created, it has great water repelling capabilities. This is why manufacturers choose to use SMS material in things like face masks, parts of baby diapers, sanitary napkins. It's also used for caps, gowns, beddings, and other hospital accessories. SMS material is an excellent choice for when you need superior protection and durability. Whether it's protecting yourself from contaminants or chemicals or protecting a cleanroom from the contaminants we bring in – SMS is an advanced material that will not disappoint. Melt blown, on the other hand, is softer and more pliable than spun bond polypropylene. Their main advantage is their web strength, which is why they're usually combined with other nonwoven fibers.
SS
ZMS
SMMS
SMMMS
Spunbond
The spun bond process was first patented in 1940s and with further development has since become more and more popular across the world. The technique itself includes fibers being spun and then directly being dispersed into a web by deflectors or air streams. They use no chemicals, and are thermo bonded. This technique is preferred as it is cost effective for manufacturers. Over the past 20 years, it has been used to make several household products such baby diapers, adult diapers, medical products, protective apparel and hygiene products, but is also versatile enough to be used within construction, agriculture, and for coating. Spun bonds are also flame-retardant or have antistatic properties, and can therefore be used for increased ultraviolet and gamma ray protection. It has many features including: low weight, high strength, high air permeability, hydrophilic properties, and excellent wear and tear properties. Furthermore, with the development of the technique, spun bonds are now much more soft and comfortable than previous types, and on average only weigh between 10 to 150 grams per square meter.
Meltblown
The melt blown process came after spun bond technology and is the process whereby ultrafine filament (micro-fibers) nonwovens can be produced at low costs. The technique includes hot air being blown onto molten thermoplastic resin that is extruded through a linear die containing hundreds of small holes, to form a fine fibered self-bonded nonwoven web. Its key feature is that it is an extremely thin fiber. As a result this material is often used for filters for air, liquids and particles, or as absorbents in products such as wipes, oil absorbents, incontinence products, and female hygiene, but can also be used in the production of certain electronics, adhesives, and other apparel.
Plan of Work
Process flow chart
Procurement of Raw Materials
Web Formation 
Web Bonding
Special Treatment & Drying
Winding / Rolling
Finished Fabric
Testing of Final Products
Result & Discussion
Materials
The required Polypropylenes Polymer are collected from the industry and by using SMMMS Method we will produce SMS Fabric. Polypropylene fabrics of 45 GSM are used in this study which is prepared by using SMS Method and SMMMS Method.
Raw Material:- Polypropylene
Density:-0.90g/cc
MFI :- 1000-1200 g/10 min
Method
This study represents an attempt to characterize the relationship between Polypropylene SMMMS fabric Used for Surgical Gowns. The most widely used method for application of chemical solution, i.e. the pad-dry-cure process is used for the application of finishes. The surgical gowns are produced by using SMMMS nonwoven manufacturing method.
Web Preparation
Nonwoven fabric samples were prepared by SMMMS process. The prepared web was entangled with Thermal Bonding by using Calendars roller having smooth and Embossed roller. The temperature of calendar roller is about 150℃-160℃.
Web Bonding
Thermal bonding is the most commonly used technique. The bonding can be either overall (area bonding) or spot (pattern bonding). Bonding is usually used to increase web strength and abrasion resistance. As the bonding level increases, the web becomes stiffer.
Methodology
Spun melt composites offers balanced properties.
Spun bond Layers contributes to tensile, Abrasion and Other Mechanical Properties.
Melt blown Layer contributes to Barrier Properties. Commonly used configuration is SMMMS.
SMMMS Manufacturing Process :
Combine the spun bond and melt blown technologies in one line. Spunbond + Melt blown + Melt blown + Melt blown + Spunbond. Joining spun bond and melt blown webs together for the final laminated web to attain the optimum properties of high strength of spun bond and barrier and properties of melt blown webs produce SMMMS laminates. This composite structure is tremendously successful as they can be engineered to high strength and Barrier products. A SMMMS laminate comprises of an internal layer of melt blown fibers sandwiched between two layers of spun bond filaments of PP. The SMMMS is more symmetry, water repellency, bacterial resistance and durability than SMMS and SMS. It consists of 100% polypropylene fibers. Its distinctive feature is the presence of 3 layers of melt blown material between two layers of spun bond.
Finishing Treatment
When the SMMMS Nonwoven fabric is produced it will goes for special treatment by using Lurol- ASY and Polyfix N-FC for antistatic finished, Alcohol Finish and Uniforth for Absorbency purpose. The finishing concentration is about 6 %.
Drying and Winding
The drying unit of the machine is Monoforts Thermex heaving tempature of 100-110 % by applying hot air on the fabric and fabric go for winding and wound on Honeywell 2080 Winder with 180-200 m/min.
Testing
Sr. No.

Testing

Testing Standard

1.

Tensile strength

ASTM D5034

 

2.

Thickness

ASTM D1777

3.

Tearing strength

ASTM D5587

4.

Abrasion resistance

ASTM D4966-98

5.

             Hydro-head

ISO 811

6.

Air Permeability

ISO 9237

7.

Antistatic

EN 1149

8.

Color of fabric

–

9.

MFI

ASTM D1238

10.

Static Charge

–

11.

Spray Impact Penetration Test

 
Table No. 1 Types Of Test tobe conducted
Result and Discussion
Thermal bonded SMMMS fabrics samples tested for functional properties and also for comfort properties viz., blood repellency test, impact penetration, air permeability, hydrostatic pressure, antibacterial activity, thickness.
| | |
| --- | --- |
| Test | Result |
| GSM (Fabric Weight) | 45 GSM |
| Air Permeability | 35.75 m3/s |
| Static Decay | 0.35 |
| Alcohol Repellency | 8 |
| Anti-Bacterial | Pass |
| Spray Test | Pass |
Table No. 2 Testing Result
Fabric Thickness:
GSM of the fabric is analyzed by GSM Test as per the standard test ASTM D-1777. The result shown was an average of at least 10 measurements are 45 GSM.
Tensile Strength
ASTM D5034 standard test procedure was used to evaluate the tensile strength of fabric samples the above result is shown on the basis of 20 tested samples.
Tearing Strength
ASTM D5587 standard test procedure was used to evaluate the tensile strength of fabric samples the above result is evaluated on the basis of 20 tested samples.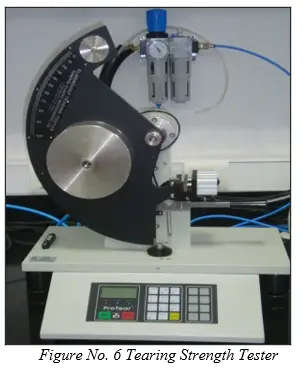 Abrasion Test
This test method covers the evaluation of the behavior of final product i.e. surgical gowns when subjected to abrasive action. The sample is tested by ASTM D1175 Method.
Air Permeability
ASTM D737 standard test procedure was used to evaluate the air permeability of fabric sample.
Blood Repellency Test
The antibacterial and liquid barrier properties of fabric samples of 45g/m2 weight are shown in above table. Spray impact penetration and hydrostatic pressure test is used to evaluate water repellency. It is found that the volume of liquor diffused through the material at the time of spray test downturn as the fabric GSM increases. Further, with increase in the fabric weight, the hydrostatic pressure head also increases for all fabric samples. The water repellent properties of the materials increase with increase in basis weight.
Conclusion
A study on suitability of nonwoven fabric as surgical aprons is made in view of antimicrobial, fluid barrier, and comfort properties of Thermal bonded SMMMS nonwoven fabric. SMMMS fabric of 45g/m2 weight can be used for level III protection. However, SMMMS fabrics are not so comfort due to more fabric flexural rigidity and less passage of air through fabric. The selected fabrics offer high bacterial resistance and blood repellency as a medical application.
References
Journal
Prakash K.E.,"Brife Introduction of Non-Woven Fabric Manufacturing Process and its Application "Textile Research Journals, Dec 2016.
edana.org
Vijay Kumar Midha and Arjun Dakuri,"Spun bonding technology and fabric properties"Journal of Textile Engineering and FashionTechnology,Volume 1 April 2017.
Melanie Disalvo,"Introduction of SMS Fabric and its Properties" Asian Technical Textile, June 9 2016.
Archie E. Hamielec and Joao B.P.," Metallocene catalysed polymerization: industrial technology", Kluwer Publishers, 1999.
Chen Jianguo," Preparation method of ultra-soft spun bond melt blown spun bond (SMS) nonwoven fabric", Textile of Chines Technology, pg.157 – 2001.
Anh Tuan Tran, Henk Van Paridon and Marc Knaepen," Nonwoven melt-blown webs made from metallocene catalyzed ethylene based plastomer", European Patent Publication, Paris EP. 3-2015.
Allgeuer and Thomas," Method of Making a Breathable, Barrier Melt blown Nonwoven", European Patent Publication Paris EP 01, 03 May 1999.
Pravin Shende and Anvi Desai," Impact and Scope of Intelligent Textiles in Health Care", Journal of Bioequivalence & Bioavailability-2017.
Charles E. Carraher, Jr., Michael R. Roner, Paul Slawek and Francesca Mosca," Group 4 Metallocene Polymers—Selected Properties and Applications", Inorganics Jounal-2018, pg. 65.
Ahmad Shamiri, Mohammed H. Chakrabarti, Shah Jahan, Mohd Azlan Hussain, Walter Kaminsky, Purushothaman V. Aravind and Wageeh A. Yehye," The Influence of Ziegler-Natta and Metallocene Catalysts on Polyolefin Structure, Properties, and Processing Ability", Materials Journals – 2014.
Wilson,"Developments in nonwovens for automotive textiles", Advances in Technical Nonwovens, 2016.
Thomas W. Brock, Mark G. Copra, John J. Lassig," Spunbond-Melt blown-Spunbond Laminates Made From Biconstituent Melt blown Materials", United State Patent Application Publication, Jun. 29, 2006.
(44)