The Revolution of Gentlemen's Clothing: From 1900 to Present Scenario
The Revolution of Gentlemen's Clothing: From 1900 to Present Scenario
Abdullah Al Shams Tamim ( ID: 2013-1-4-018 ) , Department of Apparel Engineering
---
The Revolution of Gentlemen's Clothing :
We have seen from time to time when a man chooses his style of clothing he always gets inspired by history and traditions, from one time to another and no era has been gone unnoticed. Therefore, we would like to have an overview of men's clothing back to last hundred-or-so years. Probably it will develop a little insight in ourselves how the fashion of men's wears transformation shifts, more importantly we can take refined decisions when it comes to buying clothing or to develop our individual style.
What is gentlemen's formal clothing?

When a man appears, whatever his profession is, he preferably wears suit. A suit, sometimes regarded as "The prevalent uniform of capitalists".  Its simplicity spoke of a timeless elegance but with a sharp sense of style. "Suit" was chosen to humiliate hippies to be presenting a dull established man. Although this apparel has been extravagantly refused by Silicon Valley titans like Apple's Steve Jobs, Facebook's Mark Zuckerberg and Google's Sergey Brin, the business suit has an exhilarating and mysterious appeal that should give wearer a tingle of pleasure every time whenever he put one on. It is a garment born out of revolution, warfare and pestilence.
Now our history of men's clothing begins.
1 . Late 1880s: Last of the Victorian styles :
Victorian style started from 1837 when Queen Victoria was crowned and in the late 1880s, it started to elude but still had men wearing top hats, frock coats, and pocket watches while carrying walking sticks. This may seem like a sophisticated and confining way to dress, but it was a big step in the right direction regarding the Georgian period, that began this style, which had men wearing feathers, panty hose and high heel.
A proper Victorian gentleman was not seen outside of his home without the right style of his hat. The tap hat was compulsory for formal day and evening wear, but by the era of 1870s, a man could select varieties of Victorian styles of hats with his casual wear. Victorian style of clothing for men in 1867 comprehended an extended attire of garments and costumes, designed for specific leisure activities such as horseback riding, yachting, tennis, golf. These activities were favorable for the upper class during the Edwardian era.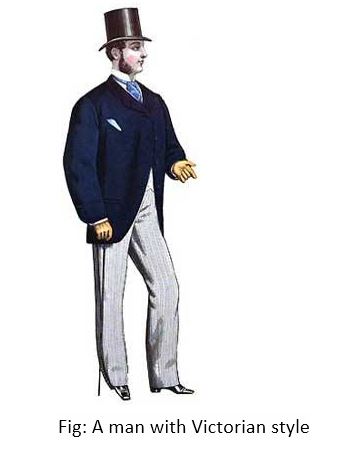 2 . 1900-1920's: Widening the limit of experiences :
As we moved into the 1900s men's style of clothing was primarily pragmatic, functional and uninspired from imagination. With the continuation of the long, lean and athletic silhouette of late 1890s, tall-stiff collars were introduced in this period. At the starting, men wore Sack suits. These were long, loose fitting, plain suit jackets one to three button closures having wide lapel. Modern suits are similar to these but usually more fitted and shorter in length. Sacks suits were usually 30-32 inches in length (down to mid-thigh). They were either single or double-breasted. The choice of colors were dark navy, grey, green and occasionally brown.
As the cultural changes after World War-I were significant, men's fashion in the 1920s went through as radical a transformation just as that of the women's. The Jazz Age gave everyone an edgier freshness on life and it reflected in clothing. The war changed attitudes towards people's lifestyle and did much to differentiate the classes, which also reflected in fashion. Younger men adopted a style with baggy plus fours and wide-legged trousers. Suits were simpler, slimmer, unpadded over the trousers and fabrics colors were lustrous and brighter than anyone had seen in years, reflecting the inspiration of music, theatre and good times.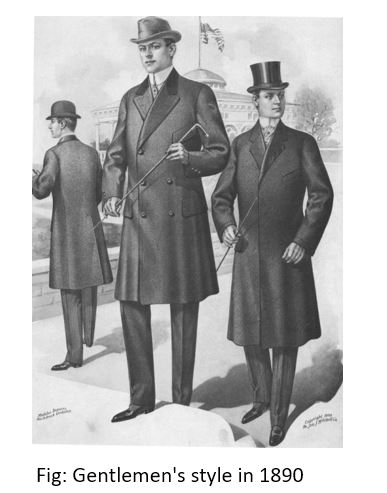 3 . 1930-1940s: Inspiration from elegant style and starting of ready-to-wear
The beginning of this era has a depressed story as the normal working class men could not afford the enjoyment of wearing fashionable clothes, thus many often enjoyed by observing the choice of clothing styles of others who could afford, such as elegantly dressed star personalities like Fread Astaire, Clark Gabel, Cary Grant. It was the time men wore dress according to certain codes of conduct, could be mentioned as "the menswear rules" what we often use as references, were written in this time.
At the end of World War II, American men lost their styling according to the high standards and basic codes of menswear established in the 1930's. This happened because of the loss of formality in their workforce. As the demand of custom tailoring lowered, the price of its rose, this allowed for the mass production of menswear to take over as a usual thing in everybody's life. This period introduced us to mass production of ready-to-wear clothing in America, which is the best mentionable feature in this era. Some of those brands, which introduced us to ready-made garments, are still selling us clothes today.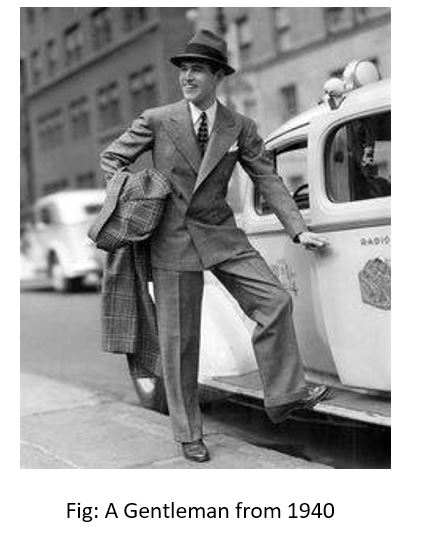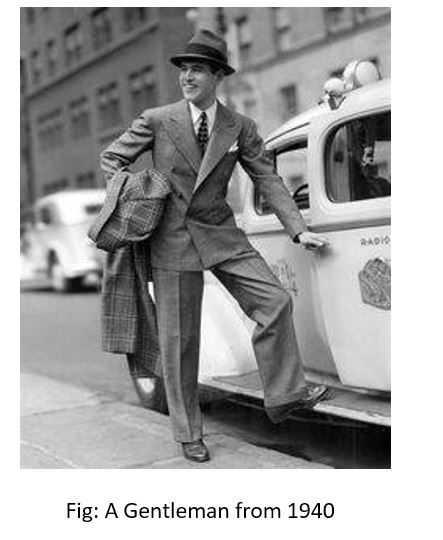 4 . 1950-1960s: Age of Resemblance to Rebellion:
Young men returning from the military were concerned to fit well in their very own society. Fitting in meant appearing in the Ivy League looking style, which was a superior style of menswear at that time. Particularity in style of clothing was an afterthought. The intention was to look stylish in a boxy sack suit, oxford shirt, rep tie and loafers. This era was another great stimulation for mass Ready-to-Wear manufacturers who gladly sold the same ill-fitting tweed jackets to many young men whose intention was to look smart as well as employable. This period also introduced to us manmade fibers (like nylon and rayon) based fabrics, but the great wearable advantages of natural fiber made clothing, this trend came to end quite soon.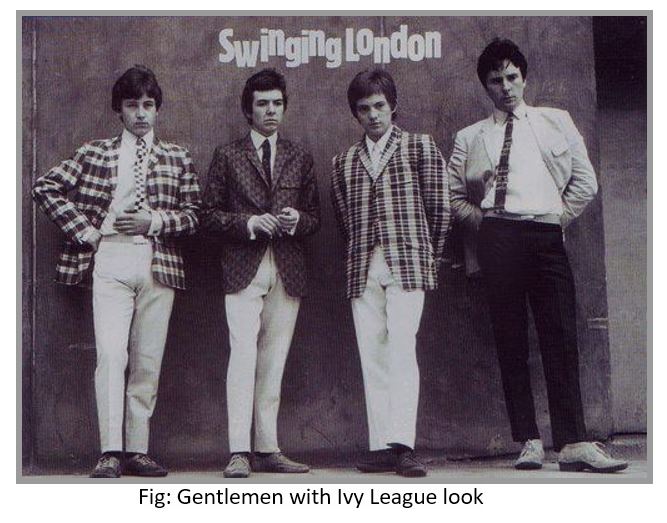 The 1960s could be regarded as a period of unrest and rebellion way of styling, different from the established codes and conduct in men's wear, which were practiced in the 1950s. In this decade, the choice of clothing and styles expressed this new attitude, especially with the young generation who were more concerned with how to express themselves in individual manners rather than traditional dressing following the "rulebook". The clothing industry capitalized this new drift and offered a wide range of styles. For the first time, grown gents started following their youth for their care-free style of clothing.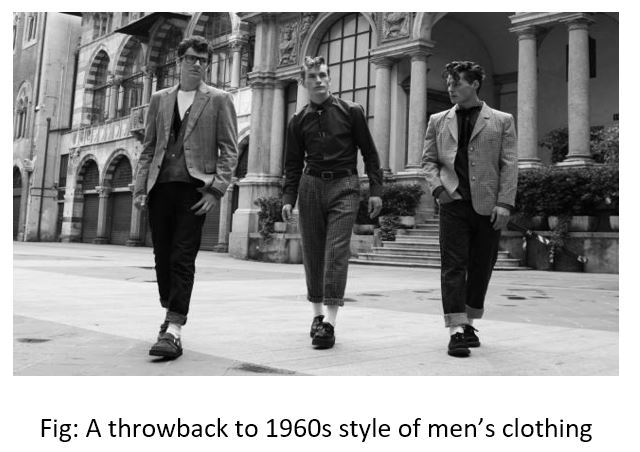 5 . 1970-1980s: Disco Fashion to Power Dress-up :
Men's casual fashion began to loosen up at the end of 1960s, but when disco music was introduced in the 1970s, a new era in men's style was born. Both young and old men went to disco clubs to dance the nights away. Male dancers' flashy and colorful clothing emulated the way of women's way of styling in clothing.
During 1980s, things got a little more condemnatory. Bright colors with vivid designs established a new idea of individuality and businesspersons followed this style of power dressing with an insistence on costly clothing with ornamented accessories.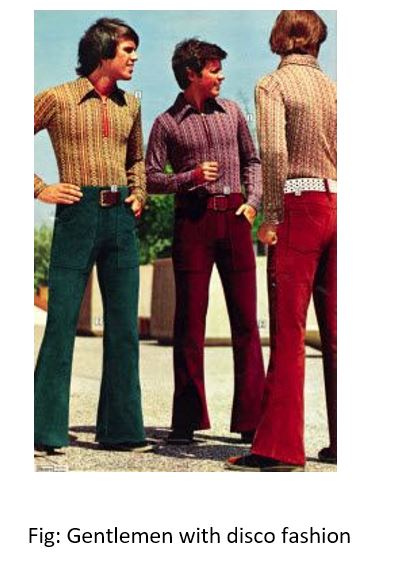 6 . 1990-2000s: Baggy Business culture to European "slim-cut" :
The 1990s brought great changes, with the loose and baggy delineation of the early '90s leading to a slimmer suit profile including oversized hoodies, distressed jeans. Business casuals generally used to enter the corporate offices in less formal wear. This ultimately caused the suit to get bigger and loosely fitting which presented people with an appearance uglier than ever before. This may be perhaps the worst dressed decade.
Menswear in the new millennium was influenced by hip-hop culture for the youth and tailoring style of European "slim fit". As a result, the suit finally started to slim down, which is continuing and because of the internet, it gets easier for us to learn about men's styling and share our opinions with fellow style enthusiasts about particular styling concept. We saw the initiation of the first internet blogs on men's wear clothing and styling in this decade.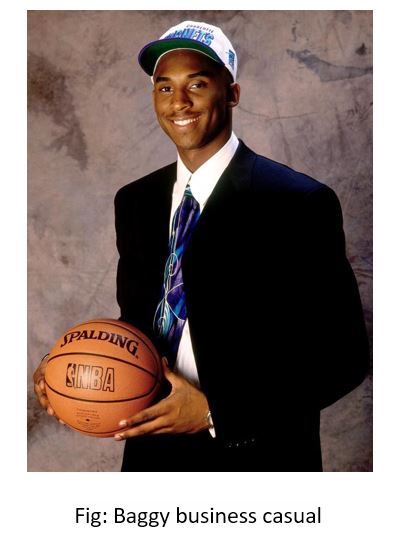 7 . 2010s to present: Evolution of online styling :
Now, fashion is in the hands of people, initiating larger varieties in styling, reviews and opinions than ever before. This era is also mentioned as the universal acknowledgement of online shopping. Style enthusiasts now have access to more brands from their homes to longer distances through online shopping. By the vast use of social media, the internet is also allowing more start-up brands for marketing and helping these brands in capitalizing with online resources of crowd funding like kick-starter. So now, we are able to see the upturn of the small brand, stimulated by the strength of the internet and the intention for consumers to have something exclusively limited. The best part is, middle men are being eliminated every day from the supply chain, which causes the shopping marker more customer-friendly.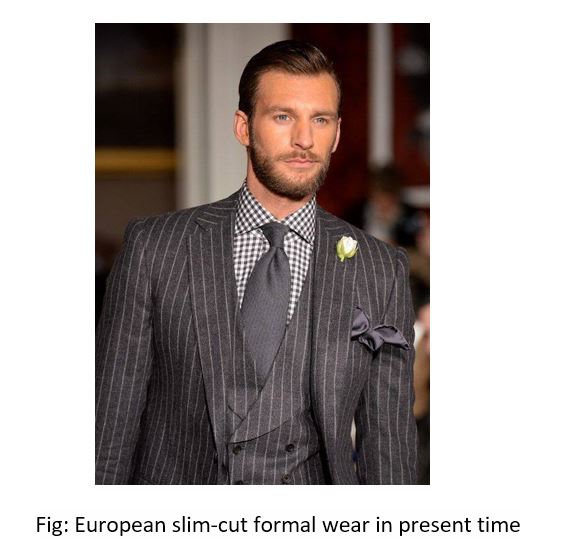 Being a fashion enthusiast does not mean that you have to purchase a new wardrobe every season, rather, you should add well-manufactured and beautiful style of collections that properly represents the wearer. It starts with understanding about that "one style" that is best suited for our bodies, personalities and trying to represent ourselves with various trends that could make some enhancement in our personalities as well.
Bibliography