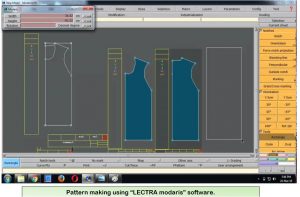 Softwares Used in Textile Industries
Softwares Used in Textile Industries
As technology is advancing so a lot softwares are now used is textile industry in every stage of the production.So as a TEXTILE ENGINEER we should know the names and functions of the commonly used softwares in textile industries.
Some popular software, which are vastly used in Textile & Apparel Industry of Bangladesh are mentioned in the below:
**Yarn Manufacturing Technology:
USTER AFIS,
USTER Bale Manager.
**Weaving Technology:
Auto Cad:
a)ARAHNE,
b)NED GRAPHICS,
c)TEXTRONIC.
Others:
a)PIXEL ART,
b)EAT DESIGNSCOPE,
c)MULLER MCAD.
**Knitting Technology:
SHIMA SEIKI SDS A-1,
STOLL M-1,
YX ENDIS.
**Wet Processing Technology:
MACBETH OS,
DATACOLOR OS.
**Apparel/Garments Industry:
OPTITEX,
AUDACES,
GERBER,
GRAFFIS,
LECTRA.
STARFISH
**Fashion Industry:
DIGITAL FASHION PRO,
MARVELOUS.
**Simulation:
GERBER VIRTUAL STITCH,
OPTITEX 3D RUNWAY,
MARVELOUS,
AUDACES,
LECTRA 3D FIT.
More Articles on Textile Study Center 
Application of Software in Textile Engineering
(55)