Garments Washing
Garments Washing | Types of Washing | Garments Dying | Denim Washing
---
Garments Washing
Normally garments washing means cleaning of dirty garments with soap or detergent. But industrial garments washing is a technology which is used to modify the outlook, appearance, comfortability and design of the ready-made garments made from solid color dyed or pigment printed fabric is called garment washing . Without proper knowledge of washing, we cannot give proper looking which is asked by the buyers in recent years. Garments washing is a new trend in Bangladesh but it has 50 years prior history. Now washing includes bringing different shades, dry processes, dyeing and so many process according to the buyer's requirement.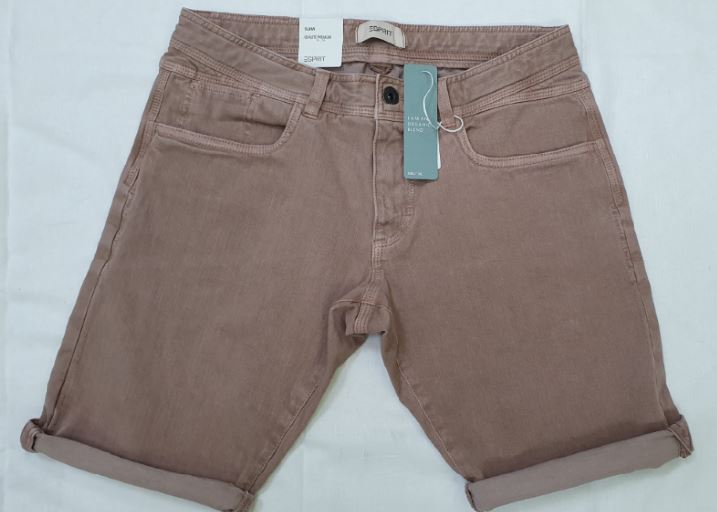 The sole purpose of garments washing is to:
Remove sizing materials
Remove dirt, dust, rust, oil, stain etc.
Bring old worn fashionable outlook
Develop softness by removing hardness
Create new color and tinted effect on garments.
To meet buyers requirement.
Types of Washing
Washing is specially applied on Denim fabric. Denim is a 2/1 or 3/1 cotton twill-weave fabric (Work-wear twill) with a dyed blue warp and raw white weft. The warp is sometimes dyed during sizing.  During the weaving process, sizing materials are used into the warp yarn to strengthen the thread to resist the mechanical abrasion in loom. In that situation, to make the surface soft and smooth, the size materials are needed to remove for further washing processes. Different types of washing methods are applied in garments washing. It constitutes dry process and wet process or chemical process.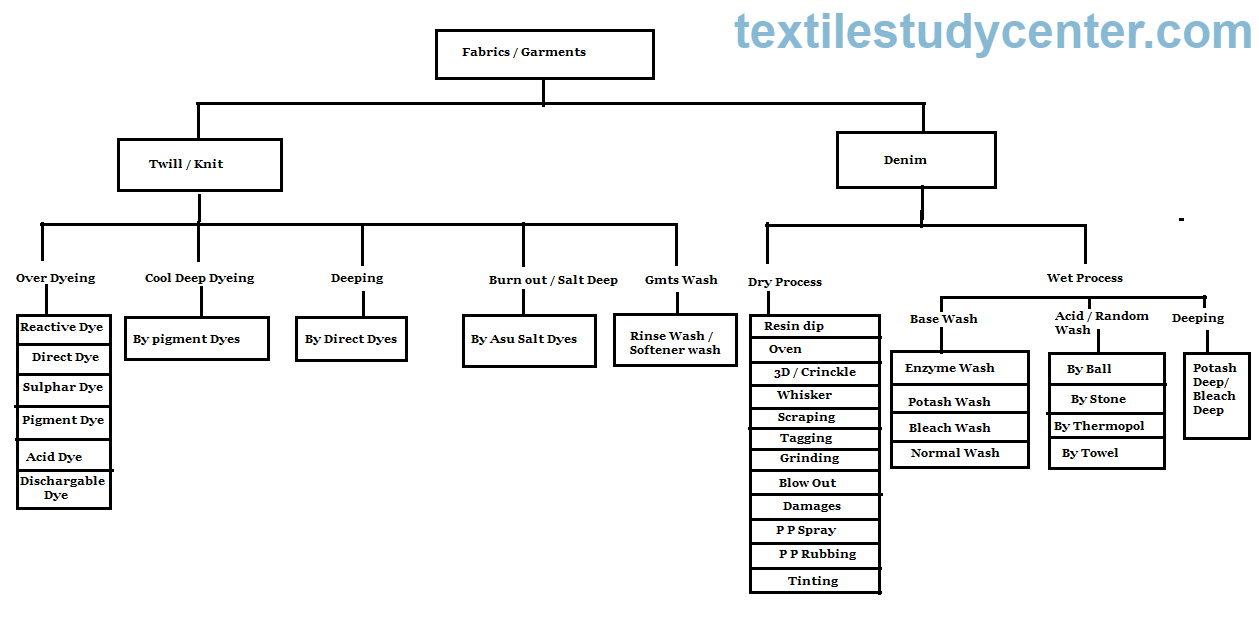 Garments Dyeing :
The process of dyeing fully made apparel product like t-shirts , pants , trousers , shirts , jackets, tops, pullovers , dresses and bottoms is called garments dyeing. In Conventional method , Garments are made with pre-dyed fabrics and then cutting and sewing. But now grey fabrics are dyed in required color after manufacturing. It has become popular in recent days due to cost saving and fashion trends. Also it is capable to react much closer to actual market demand if the apparel is post dyed which reduces lead time and increases forecasting accuracy.
Denim Washing : 
Dry Process:
The process which is applied on dry condition is called dry process. This is applied on unwashed garments. In this process, the sample garment goes through several types of mechanical abrasions which provides the garment old worn outlook. Without it denim garments does not look nice and it is done manually most of the time.
Different machines or tools used in dry process are listed below:
Crown heat gun, Chalk, pensil, Air dummy – horizontal, Air dummy – vertical, Rotating brush, Destroying machine with stones, grinding machine, Scrapping rubber pattern, Sprayer for P.P., 3D Crinkle machine, Tagging machine, Dryer, Whisker pattern, tie (Net, Socks, rope, Cable etc.), Heat setter and Quality table with light box.
Wet Process:
After coming from the dry process section, Wet process like rinse, enzyme, bleach etc washes are applied on the raw garment to get the desired outlook. In this process the garment goes through several chemical processes to remove impurities in different manufacturing process, bring new outlook, make it soft and make ready for the buyer.
Different machines used in wet process are listed below:
Front loading washing and dyeing machine
top loading washing and dyeing machine
chemical mixer machine
hydro-extractor
dryer etc.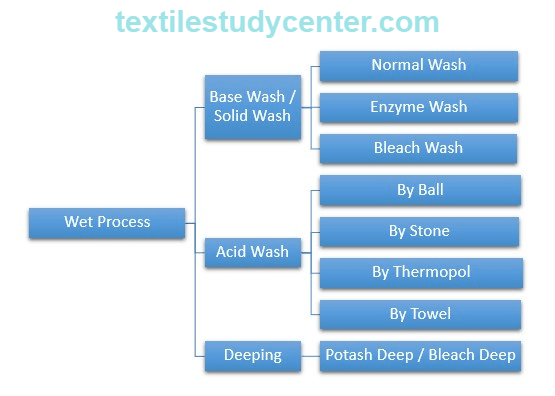 Stages of Washing
The following stages are carried out step by step. Wet process / chemical process is followed by the dry process. Those steps are selected according to the design and effect asked from the buyer.
Washing stages are given below:
Raw Garments
Whiskering
Hand Scraping
Tagging
                                                                 Washing Normal , Enzyme & Acid wash etc
Hydro-extracting
Drying
Destroy
P.P. Spray
Grinding
                                   Washing      Neutralization
Softening
Hydro-extraction
Drying
Finishing
Washing Chemicals
As garments washing is not fixed in normal washing like rinse, a lot of chemicals are helping in achieving the desired look as well as helps in the further washing procedures. All the chemicals used in washing are given below:
Detergents
Sequestering Agents
Anticreasing Agents
Desizing Agents
Enzymes
Anti BackStainer
Neutralizing Agents
Softening agents
Bleaching Agents
Oxidizing Agents
Reducing Agents
Fixing Agents
Catanizer
Wetting Agent
Rubbing fastness improvers
Tinting Agent
Resins
Silicon
Defoaming agents
Antimeldew agents
Salt
Soda
Caustic
Acids
Whitening agents
Hygroscopic agents
Stiffening agent