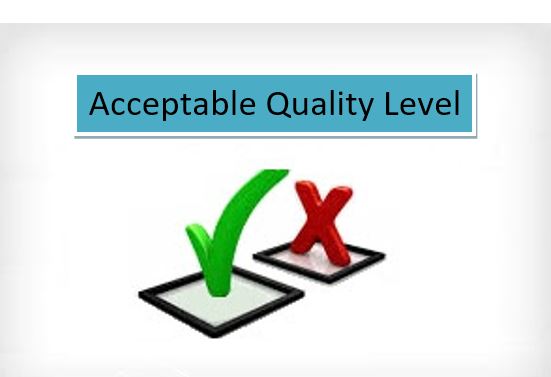 Quality Control | AQL (Acceptance Quality Level)
Quality Control | AQL (Acceptance Quality Level)
---
Quality Control
American Society for Quality Control ( ASQC ) defines quality as "A systematic approach to the search for excellence". According to International Standard Organization ( ISO ), "Quality is the fulfillment of the specified requirements for a product or service".
However, quality also means much more, they include:
The degree of excellence that an item possesses.
The best money can buy.
Meeting a specification
Not more than 1% defective a lot.
Not more than 1% defective a lot.
Quality is when the customers come back not the goods.
Quality of a garment refers to the product free from staining faults, sewing defects, fabric faults, size measurement faults, matching of color and stripe faults, cutting faults, etc.
Synonyms: Productivity , Cost reduction , Scheduled performance , sales , Customer satisfaction , Teamwork, and manymore.
Dimensions of quality:
Over dimensioned quality
Under dimensioned quality
Dimensioned quality
To achieve dimensioned quality, the organization's staffs should have exact knowledge of the requirement profile of the products. This part can only be fulfilled if the information regarding the quality is freely exchanged between the various interfaces of the process.
AQL (Acceptance Quality Level) :
The (AQL) standard is based on Military Standard 105D (MIL-STD-105D).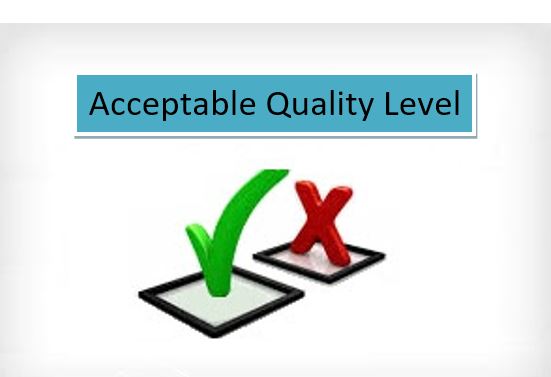 Example of AQL defects:
Critical-AQL (0) %:
Incorrect country or origin /fiber composition.
Inconsistent labeling between UPC and outer box.
Needle/pin in product.
Rough sharp edges metal/plastic trim and composition.
Missing safely warning
Missing sewing label.
Chemical orders.
Major defect AQL (1—2) %:
Fabric flaw on presentation area and visible at area level
Snags at arm level
Shade variation
Soiling, dirty marks
Non-inclusion
Needle damage mark
Broken stitch
Cracking stitch
Button missing
Unraveling buttonhole
Fit measurement
Different between two side (shade variation)
Bar—tack out of range
Zip broken
Printing defect
Washing defect
Minor defect AQL (4%):
Poor thread matching
Poor thread join and bar tack
Thread not trimmed properly (poor trimming)
Missing trimming
Measurement outside tolerance (out of tolerance)
Stepped seams/hem
Tension on elastic
Poorly pressed
Creased by lining not even with foot pleat/dust
Uses of AQL:
In this system, sample is selected by random sampling technique from a lot. After proper inspection, the decision is taken whether the lot will be accepted or rejected. This is applicable for raw materials to finished products inspection as well as garments. This system is popular and used widely in the world trade. Acceptable sampling system consists of 5 parts:
Lot size
Sample size
AQL
Accept number
Reject number
Customer's choice is given priority in this system. It is the customer who decides whether the goods will be inspected at AQL of 1.5%, 2.5% or soon. They generally give preference to the major defects ( such as oil mark, holes, torn, etc) i.e. which a tag lance seems to be odd for use. They also give the direction on sampling technique.
Garment Inspection system (AQL):
| | | | | | |
| --- | --- | --- | --- | --- | --- |
| Lot Size |   |   | Acceptable Quality levels |   |   |
| Being Audited | Inspect | 1.5 | 2.5 | 4 | 6.5 |
|   |   |  Ace |  Ace |  Ace |     Ace |
| Less than 151 | 8 | 0 | 0 | 1 | 1 |
| 151–280 | 8 | 0 | 1 | 1 | 2 |
| 281–500 | 32 | 1 | 1 | 2 | 3 |
| 501–1200 | 32 | 1 | 2 | 3 | 5 |
| 1201–3200 | 50 | 2 | 3 | 7 | 7 |
| 3201–10000 | 80 | 3 | 5 | 7 | 10 |
| 10001–35000 | 125 | 5 | 7 | 10 | 14 |
| 35001–150000 | 200 | 7 | 10 | 17 | 21 |
For AQL system which points are to inspect is given below:
Model descriptions
Fabrics:
Construction

ok

 

Printings cracks

 

 

Color

Needle marks

Yarn dyed

 

Solid

ok

Sport/stain/Oil

Cylinder marks

Naps/Dead yarn

 

Bobbling/Pilling

 

Crease marks

Hand feel

Shell color

 

Lining color/Fishing

x

Wash effect

 
Sewing (General description's)
Styling
| | | | | | | |
| --- | --- | --- | --- | --- | --- | --- |
| Open seam |   | Poor Pressing |   | Loose thread |   | Broken/Skips |
| Measurements |   | GSM |   | Tensions Thread |   | Color/Zippers |
| Appearance/over all |   | Shadings |   | Button/Snap/Etc |   | Seam Twisted |
| Color |   | Interlining |   | Hanging yarn |   |   |
Accessories/Trims
| | | | | | | |
| --- | --- | --- | --- | --- | --- | --- |
| Main Label |   | Size Label |   | Button /Buckle/Stopper |   | Loops with rings |
| Rivals /Button /Holes |   | Velcro tape |   | Technical Label. |   |   |
| washing Label |   | Flasher Lbl. |   | Print/Embroidery |   |   |
Packing Division                                                                    
| | | | | | | |
| --- | --- | --- | --- | --- | --- | --- |
| Solid |   | BD. Striker |   | Striker |   | Price tag |
| Assort |   | Ratio Striker |   | Card Board |   | ORMS# |
| Recycle Symbol |   | Folding Size |   | Shipping Mark |   | Size of carton |
| Top Bottom |   | Hang tag |   | Carton ploys |   | Bar code |
| Poly Bag/Tissue |   | Net wet. |   | Gross. Wt./Net wt |   |   |