Laser in Denim Industry | Advantages and Disadvantages of laser finish | Laser safety
Laser in Denim Industry | Advantages and Disadvantages of laser finish | Laser safety
Advantages of Laser Finish :
Laser fading has some specific advantages as listed below-
Any design at any place can be created. Fading on seams, on metal buttons is possible.

Faster process compared to the conventional dry processes.

Cent percent design accuracy.

Suitable for wide range of material.

Comparatively less strength loss than other mechanical fading.

Low hairiness compared to other mechanical fading.

Environment friendly.

Zero water waste.

Requires no chemical.

Less manpower required.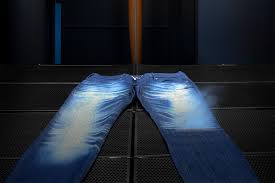 Disadvantages of laser finish :
Laser fading has some disadvantages too.
The common disadvantages of laser fading are listed below-
Initial investment is very high, which is a problem for small and medium size industries.

Skilled operator is needed, which might be a disadvantage in some particular circumstances

Producing natural effect is difficult and often requires some manual touch after the fading to give the product natural look.

The laser beam itself and the produced fumes are health hazardous.

Maintenance and servicing of the laser system may be troublesome in some circumstances. 

Some general aspects of Laser finish :
Effect quality is comparatively finer in Manual system than laser.

Hand feel is comparatively finer in Manual system than laser system.

Hairiness is comparatively less in Laser system

Production cost is higher in Laser system

Working space required is less in Laser system

Design consistency is high in Laser system

Tearing strength is higher in Laser faded denim (May differ in case of stretch denim)

Rejection rate is 0% in Laser system whereas around 5% in Manual system

Manpower required – Laser: Manual= 1:3 (Approximately)

Power Requirement is higher in Laser system (approximately 7.5-Kilowatt hour)

The laser beam would be harmful if it came into contact with skin or eyes.

Laser Safety :
Laser systems are controlled by international safety regulations (IEC 60825-1). These define categories of lasers according to their power. Lasers that output more than 500mW are defined as class IV and safety regulations ensure that users are prevented from directly coming into contact with a beam by enclosing the laser and the work piece in cabinets controlled by interlocks, which prevent the laser from being operated when the cabinet is open. Fumes that are generated during processing may also be hazardous. Laser systems are fitted with extraction systems that remove processing gases from cabinets. Particles are filtered out before the cleaned air is allowed to pass into the environment. A suitable extraction system is a legal requirement.

Harmful effect of laser radiation on eye and skin :

| | | | |
| --- | --- | --- | --- |
| Laser type | Wavelengths (nm) |  Impacts on eye | Impacts on skin |
| Excimer laser | 100-315 | Cornea ignition | Sunburn, accelerated aging |
| He-Ne laser | 315-380 | Lens opacity | Increased pigmentation |
| Nd-YAG laser | 380-780 | Violation of the retina | Darkening of pigment, burns |
| High performance diode laser | 780-1400 | Lens opacity, violation of the retina | Burns |
| CO2 laser | 1400-3000 | Lens opacity, burning of the cornea | Burns |
| CO2 laser | 3000-10,000 | Burning of the cornea | Burns |
Laser finish and GO green movement in Bangladesh :
The production of denim fabric includes making patterns, as well as getting the right color for the most popular "blue" color jeans. This requires washing the jeans using different types of chemicals. It takes 100 liters of water to make an average pair of blue jeans according to industry insiders, with more water needed for more complicated designs. Others have estimated much higher usage – up to 11,000 liters for a single pair of jeans.
These designs can also be created using laser technology, and this would reduce chemical usage by about 20% to 30%.
Chemical usage has a direct impact on the amount of water needed to make the jeans, as they have to be washed afterwards to remove the chemicals. Nor is this where the damage stops. The wastewater generated from such processes has had a catastrophic impact on the environment, creating a "water pollution disaster" leading to high costs to public health, agriculture and fisheries.
Any initiative that reduces the usage of chemicals in the garment sector, and the consequent generation of wastewater, is therefore a very big step forward.

You May Look on Below  :