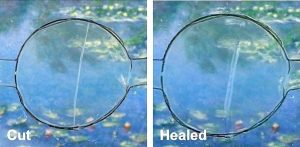 WOLVERINE That Heals Itself
WOLVERINE That Heals Itself
---
Those who are fond of American comic books must have heard the name "WOLVERINE " who has a power of self healing appearing in American comic books published by Marvel Comics, mostly in association with the X-Men.
Inspired by this comic book character Wolverine, scientists including several from the University of California, Riverside, have developed a have developed a self-healing, mechanically stretchable, ionic conductor, meaning materials that ions can flow through, that is transparent, and self-healing material that can be used to power artificial muscles and could be used to improve the lifetime of batteries, electronic devices, aircraft's, space vehicles and robots.
The Wolverine- material is created by combining a polar, stretchable polymer with ionic salt. When activated by an electrical stimulus-resultant end product is a soft, rubber-like and malleable material that's easy to produce at low cost – it can be stretched to 50 times its original length without breaking. After being cut, it can completely re-attach, or heal, in 24 hours at room temperature. In fact, after only five minutes of healing the material can be stretched two times its original length.
The material has potential applications in a wide range of fields. It could give robots the ability to self-heal after mechanical failure; extends the lifetime of lithium ion batteries used in electronics and electric cars; and improves biosensors used in the medical field and environmental monitoring. Even NASA's Langley Research Center is working on building self healing material.
Wolverine fabric has already been used in The "Mission Mangalyaan" which was initially estimated to survive around six months, but it is still active from which we can get an idea about the durability of this fabric. In addition to just being used in space, it can also be used as a cover for valuables including military, navy and firefighter's clothing. It can not only bring new dimensions in 4th revolutionize in textile sector, but it will also minimize the limitations of our traditional textiles by providing continuous healing over lifetime, integrating material surface and recovering mechanical strength up to 80-90%.
(301)