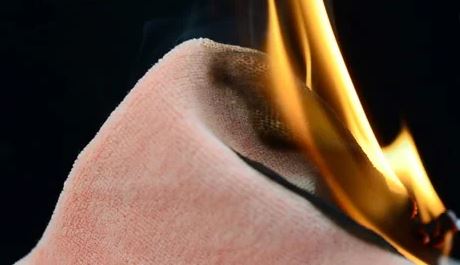 Identification of Textile Fibre 
Identification of Textile Fibre
A: Burning Test :-
Textile fibres can be identified by observing the burning phase of these fibres in flame . All natural and regenerated fibres are burnt to ash and special smell is observed for each fibre. Synthetic fibres on burning contract and form beads.
All cellulosic fibres such as jute, cotton, linen, viscose rayon, etc. exhibit very fast and rapid burning and give out a smell of a page burning . No ash is left.

Natural protein fibres such as wool, silk, etc. burn slowly and give out a smell of burning hair. Brittle black ash is left back.

Acetate fibres melt on burning and give out the smell of vinegar or acetic acid. On cooling they form hard black beads.

Poly amide fibres melt like glass and form beads. They give out the smell of amine.

Polyester fibre melts on burning and form irregular beads and give out a sweet aromatic smell.

Polyacrylic fibres on burning forms small black beads .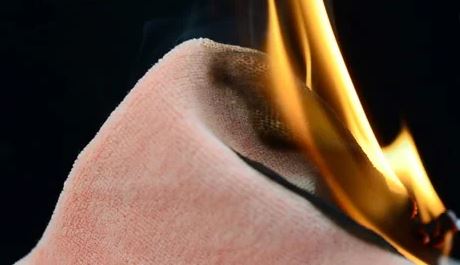 B: Solubility Test:-
The solubiity of different textile fibres in different solutions depend on the chemical constituents of that fibre. The identification of different textile fibres can be done based on their solubility in different chemical solutions.
Cotton – soluble in 70% sulfuric acid solution and cupramonium hydroxide.

Linen,jute – soluble in 705 sulfuric acid and gives yellowish brown solution .

Wool – soluble in 5% boiling caustic soda solution. The vapour ejected turns lead acetate paper silver .

Silk – soluble in 5% cold caustic soda solution.

Viscose rayon – soluble in 60% sulfuric acid solution and cupramonium hydroxide.

Acetate rayon – soluble in acetone.

Polyester – soluble in heated meta-cresol solution and heated ortho-chlorophenol solution.

Poly amide – soluble in cold meta-cresol , 90% formic acid and hydrochloric acid , 60% sulfuric acid .

Acrylic- soluble in boiling di-methyl formamide.
(208)