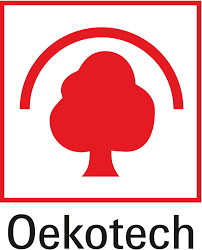 Let's Be Familiar With Oekotech
Let's Be Familiar With Oekotech
---
Umme Salma Ferdousi
Textile Fashion & Design Department, Bangladesh University of Textiles
---
Textile Products which are produced for environmental protection applications purpose are known as oekotech or ecotech. This actually refers to technical textiles which are environmental friendly. Organic cotton, bamboo, hemp, lyocell (made from bleached wood pulp) fibres are environmental friendly. For floor sealing, erosion protection, air cleaning, prevention of water pollution, water cleaning, waste treatment/recycling, depositing area construction, product extraction, domestic water sewerage plants ecotech is used.
Geo-synthetic eco friendly textile products are used in Landfill (a site for the disposal of waste materials by burial and is the oldest form of waste treatment) waste management that means to protect landfills from leakage of municipal or hazardous waste.
Eco friendly textile fibre can be divided mainly into following types–
Organic-organic cotton, organic wool, organic silk, hemp
Manmade-soya bean, lyocell
Recycled-recycled cotton, recycled wool
Natural-naturally colored cotton
Organic cotton is grown without toxic, synthetic chemical inputs. Organic cottonseeds are non-genetically engineered and natural fertilizers are used for growing it.Less energy and fuel are used in organic cotton farming, it emits fewer greenhouse gases into the air , so it has a lower carbon footprint than traditional cotton farming. It also reduces water consumption and toxic run-off.Bamboo is normally grown with few chemical inputs, it has antibacterial properties and it's a biodegradable one. Hemp is a renewable one, requires little or no pesticides, grows without fertilizer, the good thing about it is, it doesn't diminish soil nutrients. Organic wool is that wool which is not exposed to any chemicals like pesticides.
Lyocell is fully biodegradable and is a form of rayon which is made from natural cellulose wood pulp. During manufacturing it uses less-toxic chemicals in a closed –loop process. Soya bean fibre is the by product of soya bean while processing for food purpose.
Recycled cotton is an eco friendly one. It is made from recovered cotton that would be cast off during spinning, weaving, knitting or garment cutting process. Recycled polyester is another example in this concern. This eco friendly recycled polyester is certified by SGS and *OEKOTEX.
Other mentionable eco-friendly fibres are Lenpur and Inego fibre.Lenpur is an eco-friendly one from the pulp of sustainable white fir trees. Inego fibre is fermented from plant sugars in corn. Eco-Fi is undoubtedly an interesting one as it is a polyester fibre which is made from recycled plastic bottles.
Bamboo, banana, pineapple fibres are actually new innovated eco friendly fibres. The related industries with these eco friendly fibres are –Fashion and apparel industry, home furnishing industry, hygiene and healthcare industry, medical textile industry, eco packaging industry and many more and still are growing.
This world is facing a huge destructive situation due to the vast use of her inimical textile and other products. In the different stages of processing of textile materials she is being harmed very badly. Oekotech can be a great relief for her in this condition.
*OEKOTEX- (The International Association for Research and Testing in the Field of Textile Ecology, headquarters is in Zurich.  It was developed in 1992 by the Hohenstein Institute and the Institute for Ecology, Technology and Innovation in Vienna (Austria).
The OEKOTEX-100 was made to test textiles for harmful substances. To consumer it provides a "Confidence in Textiles "label. Textiles with this label are proven as the products which are below the set limit values for particular harmful substances. The actual use of the textile is always focused when OEKOTEX testing for harmful substances is done. The more intensive the skin contact of a product, the stricter the human ecological requirements need to be fulfilled) The requirement for certification of textile products according to OEKO-TEX Standard 100 is that all parts of an item have to meet the criteria without any exception – that means with the outer material also sewing threads, linings, prints etc. as well as non-textile trims and accessories like-buttons, zip fasteners, rivets etc.
The Oeko-Tex Standard 1000, which was introduced in 1995, is a supplementary certification of Oeko-Tex Standard 100 .It is a certification system for environmentally friendly production sites in the textile and clothing industry.
It works for testing and certifying the production environment of a production site .If a company acquires both the Oeko-Tex Standard 1000 and Oeko-Tex Standard 100 for a product, then the product can be labelled with the Oeko-Tex Standard 100plus. This means the product was tested for harmful materials and was produced in an eco friendly and socially acceptable manner.
References:
http://ecowatch.com/2013/11/15/eco-friendly-fabrics/

http://textilelearner.blogspot.com/2014/09/ecotextile-application-or-uses-of-ecotextile.html

https://en.wikipedia.org/wiki/Technical_textile

https://en.wikipedia.org/wiki/Landfill

https://en.wikipedia.org/wiki/Oeko-tex_standard

http://life.gaiam.com/article/how-are-eco-friendly-fabrics-made
(697)