Application of Medical Textiles | Extra-Corporal Devices
Medical Textile | Classification of Medical Textile | Application of Medical Textiles | Implantable Medical Textiles | Non-Implantable Medical Textiles | Extra-Corporal Devices | Healthcare / Hygiene Products
Application of Medical Textiles | Extra-Corporal Devices
---
Extra-Corporal Devices:
Extra corporal devices are mechanical organs that are used for blood purification such as apheresis, hemodialysis, hemofiltration, plasma-pheresis or extra corporeal membrane oxygenation. There have been artificial kidney, liver and mechanical lung. The making of these devices requires precise design and manufacture. Requirements needed for these devices – anti-allergenic, anti-carcinogenic, resistance to micro-organisms, antibacterial, non-toxic, and the ability to be sterilized.
Fibres which are used for extra implantable:
| | | |
| --- | --- | --- |
| Fiber type |      Application |  Function |
| Hollow polyester fibre, hollow viscose | Artificial kidney | Remove waste from patient blood |
| Hollow viscose |  Artificial liver | Separate and dispose of patients' plasma and supply fresh plasma |
| Hollow polypropylene fibre, hollow silicone membrane |  Mechanical lung | Remove carbon dioxide from patients' blood and supply fresh oxygen |
Artificial kidney:
The mechanical device used to clean the patient's blood is called a dialyser, also known as an artificial kidney.An artificial kidney would provide the benefit of continuous blood filtration. It would reduce kidney disease illness and increase the quality of life for patients. As the blood flows through the kidney it is cleaned by passing through thousands of tiny filters. The waste materials go through the ureter and are stored in the bladder as urine. It is made with hollow hair sized cellulose fibres or hollow polyester fibre.
Artificial Liver:
Artificial livers are made from hollow viscose, to filter patients' blood and to help remove the waste products. Liver helps in the process of digestion and also metabolize carbohydrate, lipid and proteins. Liver also helps the body to get rid of waste products. Waste products that are not excreted by the kidneys are removed from the blood by the liver. The artificial liver will be able to act as an 'auxiliary engine' for a patient, during periods when the patient's own liver cannot manage to function adequately. Blood is recirculated from the patient through the artificial liver – a process that takes several hours. In order to avoid the problem of rejected cells, every single patient needs a bio-reactor.
Mechanical Lung:
Lungs contain a fabulously convoluted network of branching air sacs to allow gases to diffuse in and out of the blood. Mechanical lung provides oxygenation of blood and removal of carbon dioxide from the blood. The micro porous membranes of the mechanical lung possess high permeability to gases but low permeability to liquids and functions in the same manner as the natural lung. Hollow polypropylene fibre and hollow silicon membrane are used to make mechanical lungs. Artificial lungs could provide a stopgap for people recovering from severe lung infections.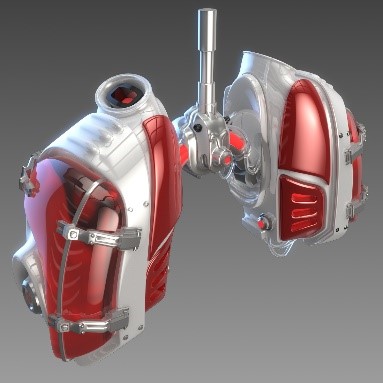 Medical Textile | Classification of Medical Textile | Application of Medical Textiles | Implantable Medical Textiles | Non-Implantable Medical Textiles | Extra-Corporal Devices | Healthcare / Hygiene Products
(447)