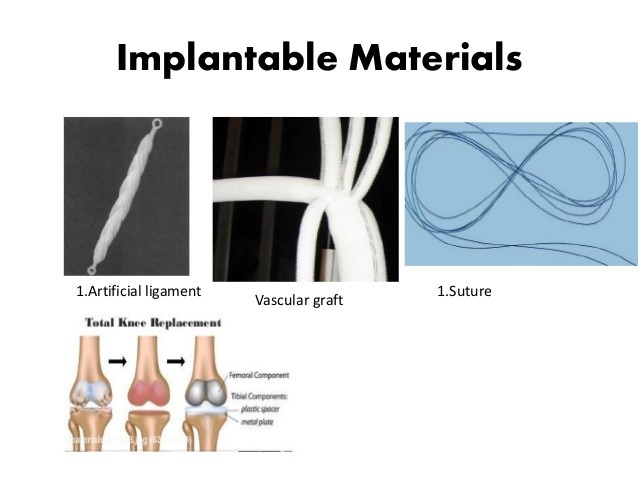 Application of Medical Textiles | Implantable Medical Textiles
Medical Textile | Classification of Medical Textile | Application of Medical Textiles | Implantable Medical Textiles | Non-Implantable Medical Textiles | Extra-Corporal Devices | Healthcare / Hygiene Products
Application of Medical Textiles | Implantable Medical Textiles
---
Implantable Medical Textiles:
Implantable products are biomaterials which are used for wound closure (e.g. suture), replacement surgery (e.g. vascular graft, artificial ligaments etc.) Another important category of implantable products is soft-tissue implants. 
These are flexible strong materials commonly used to replace tendons, ligaments and cartilage in both reconstructive and corrective surgery. Suspensors and reinforcing surgical meshes are used in plastic surgery for repairing defects of the abdominal wall.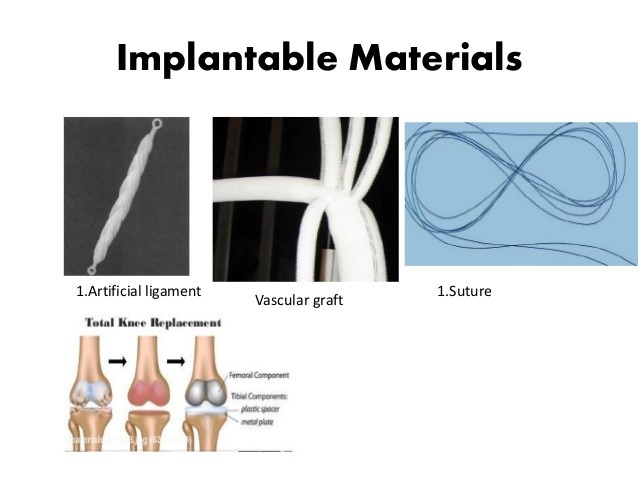 Polymer fibers which are used for implantable are mentioned in followings:
| | | |
| --- | --- | --- |
| Fiber type | Application | Fiber structure |
| Collagen, catgut, polyglycolide fibre, polylactide fibre | Biodegradable sutures | Monofilament, braided |
| Polypropylene fibre, polyethylene fibre, Polyester fibre, polyamide fibre, PTFE fibre | Non-biodegradable sutures | Monofilament, braided |
| PTFE fibre, polyester fibre, silk, collagen, polyamide fibre | Artificial tendon | Woven, braided |
| Polyester fiber, carbon fiber, collagen |    Artificial ligament | Braided |
| Chitin | Artificial skin |    Nonwoven |
| Silicone, polyacetyl fibre, polyethylene fibre | Artificial joints/bones | – |
| PTFE fibre, polyester fibre | Vascular grafts |  Woven, knitted |
Artificial Ligament:
Artificial ligament is used for joining two joints of a human body. It is a one kind of medical device. In adult skeleton there are 400 joints which are joined by the ligaments. The ligament is a short band of tough, flexible, fibrous connective tissue that connects two bones. Artificial Ligament is a multilayered or tubular woven structure having intra-particular region, at least one bend region and end regions.
Example: DACRON, LEEDS-KEIO ARTIFICIAL LIGAMENT.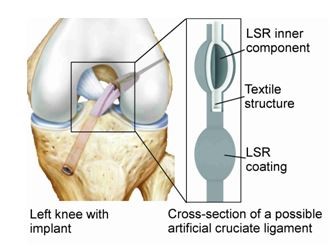 A prosthetic ligament should have following characteristics:
Extensive tough
Stiffness to match the compliance of normal ACL (Anterior Cruciate Ligament)
Durability to withstand against high tensile load for million of cycles without wear
Perfectly tolerable to host
Artificial skin:
The characteristics of human skin are heavily dependent on the hydration of the tissue – in simple terms, the water content. This also changes its interaction with textiles. Artificial skin is a substitute for human skin produced in the laboratory, typically used to treat severe burns. The skin's basic functions, which include protecting against moisture and infection and regulating body heat.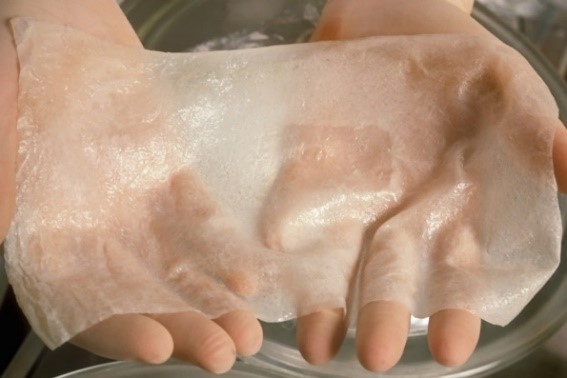 Skin is primarily made of two layers: the uppermost layer, the epidermis, which serves as a barrier against the environment; and the dermis. The dermis also contains the proteins collagen and elastin, which help give the skin its mechanical structure and flexibility. Artificial skins work because they close wounds, which prevents bacterial infection and water loss and helps the damaged skin to heal. Artificial skins mimic either the epidermis or dermis, or both epidermis and dermis in a "full-thickness" skin replacement.
For example, one commonly used artificial skin, Integra, consists of an "epidermis" made of silicone and prevents bacterial infection and water loss, and a "dermis" based on bovine collagen and glycosaminoglycan.
Some Manufacturer of Artificial Skin:
Human Bio Sciences Incorporated (India)
Delhi Dressing and Surgicals (India)
Intercytex Ltd. (UK) 
Vascular Graft:
Vascular grafts are used for the blood vessels, including the arteries and veins. Synthetic materials have been employed in vascular graft design for a variety of reasons, mainly due to the ease and flexibility of tailoring their mechanical properties. One such example is ePTFE, a porous polymer with an electronegative luminal surface that is not degradable. However, only 45% of standard ePTFE grafts are patent as femoropopliteal bypass grafts at 5 years, while autologous vein grafts display a 60–80% patency.
Textiles produced in the form of a tube have been used as implants to repair the damaged arteries and veins. Typical diameters of such tubes are 6mm, 8mm, and 10mm. Vascular grafts are either made from polyester or PTFE fibre, woven or knitted. The knitted tube has the advantage of good tissue encapsulation, but less satisfactory in preventing blood leakage, because of the loose structure of the knitted materials. On the other hand, the woven tube is good at preventing blood leakage, but is not so good for tissue growth, due to its relatively tight structure.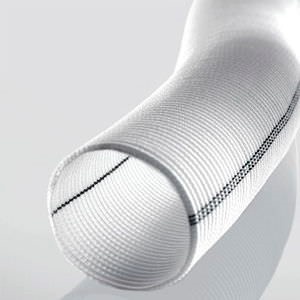 Medical Textile | Classification of Medical Textile | Application of Medical Textiles | Implantable Medical Textiles | Non-Implantable Medical Textiles | Extra-Corporal Devices | Healthcare / Hygiene Products
(849)