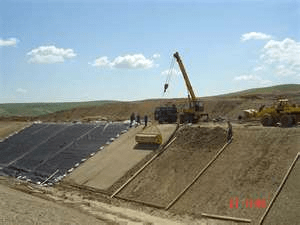 Geotextile | Forms of Geotextiles | Production of Woven Geotextiles | Application Areas of Geotextiles
Geotextile | Forms of Geotextiles | Production of Woven Geotextiles | Application Areas of Geotextiles
---
 Geotextile :
A planar, permeable, polymeric (synthetic or natural) textile material, which may be nonwoven, knitted or woven, used in contact with soil/rock and/or any other geotechnical material in civil engineering applications.
Geotextile is a part of technical textile which is used for special purposes. Geotextiles form one of the two largest groups of Geo synthetics. The raw material of geotextile comes from polyester, Polyamide, Polypropylene and Polyethylene. The application of geotextile is civil engineering, coastal engineering and also hugly used in the area of construction site.  Generally, geotextiles are located in the tension area to make stronger the soil.
 Forms of Geotextiles :
Geotextiles are actually found in 5 basic forms. This is actually the mode of their construction.
Woven 
Non-woven 
Polyspun
Spunbond
Knitted
Following is a review these different types and how they can be affected by stress:
Woven geotextiles perform the functions of separation and reinforcement. They are referred to by tensile strength and offer a very high load capacity. While woven fabrics are relatively impermeable and won't provide good drainage, their high compressive strength makes them an ideal choice for roads, parking lots, etc.
Non-woven geotextiles are felt-like and don't offer much in the way of compressive, tensile, or shear strength. But that's ok because their main functions are separation, filtration, and drainage. They are referred to by weight and ideal for any hardscape project where filtration or drainage is needed. Non-woven geotextiles can also be used for erosion control.
Polyspun geotextiles are non-woven fabrics and their main function is separation. While they are permeable and provide drainage, they will not provide any reinforcement to a project. Polyspun geotextiles are referred to by lifespan and are most commonly used as weed barriers.
In the world of fabric manufacturing, the spunbond process is considered the fastest manufacturing method for nonwoven fabrics. During the process, extruded filaments are spun onto a belt and bonded by applying heated rolls. Like polyspun geotextiles, spunbond fabrics will provide drainage but no reinforcement. They are referred to by weight and commonly used as weed barriers or as drainage fabrics.
5 . Knitted Fabrics:
Knitted geosynthetics are manufactured using another process which is adopted from the clothing textiles industry, namely that of knitting. In this process interlocking a series of loops of yarn together is made. An example of a knitted fabric is illustrated in figure. Only a very few knitted types are produced. All of the knitted geosynthetics are formed by using the knitting technique in conjunction with some other method of geosynthetics manufacture, such as weaving. 
 Production of Woven Geotextiles
Generally, monofilament, slit film and multifilament-based synthetic materials have dominated the geotextile market. The production stages of woven geotextiles of these materials are thus of significant importance. Following is the demonstration of two sorts of production process.
 Woven geotextiles made from monofilaments/films are produced in the following stages:
Extrusion of a flat film/filament
Cooling of the film/filament in a water bath
Cutting the film into individual tapes
Drawing out the tapes/filaments and winding them onto packages.
The manufacture of multifilaments is similar except that the slit dies are used in place of spinnerets with slots in the melt extrusion process.
These filaments/films subsequently form an important constituent of 'beaming' in the warping process. In general, direct beaming (also known as direct warping) is commonly used for films and for circular cross-section monofilaments. Warps prepared from multifilament yarns generally have a higher number of ends and are produced on assembly warpers and subsequently assembled onto a weaver's beam. Following warping, the weaving of monofilament or multifilament geotextiles is commonly carried out either on projectile or rapier looms (Achermann, 1985). The projectile loom has been more popular than the rapier loom, due to its versatility in producing a range of dense and heavy fabrics as well as its flexibility in permitting a wide range of production widths or simultaneously weaving several different widths of fabrics on one machine in an economical way.
 Applications:
Geotextile used for various drainage applications along with their advantages are explained below.
Drains with Typar and French drains

Well-graded aggregate substituted by cheaper, coarse aggregate.
Easy to install, very uniform.
French drains without pipe.

Vertical drains

Allows up to 10 times faster settlement of soil under static load.
Faster removal of water in saturated compressible soils.
More economical than conventional vertical sand drains.

Agricultural and pipe drains

Corrugated pipe wrapped with Typar® can be put into subsoil with or without digging a trench.
Drainage surface of corrugated pipe is increased up to 90 times.
Influence zone of wrapped drain is higher.
Drain spacing can be increased.
Stiffness of Typar® prevents fabric from entering the pipe corrugations.

Blanket drains in roads, in sports fields

Optimal drainage system.
In sport fields, the thickness of cover soil can be reduced and the filtration and anti-contamination. Effects avoid clogging of drainage blanket by soil particles carried by rainwater.

Road and civil engineering drainage, side drains

Optimal drainage system.Automated installation equipment.

Wall drainage

Prevents clogging of drainage slabs and toe drains.
Avoids hydraulic pressure build-up in roads, prevents contamination and failure of the drainage layer.
Geosynthetics constitute a thick fibrous system, which can absorb local stresses and distribute them more evenly, thereby providing protection against perforation of impervious films, sheets, asphaltic membranes, etc and of buried sealing.
Sealing membranes.
Hydraulic structures (dams, irrigation channels).
Sealing systems of buildings.
Buried piping (gas and oil pipelines).
Protection against punctures by reinforcement is able to absorb shear stresses and a drainage capacity capable of dissipating eventual uplift pressures of water or gas.
 Typical applications of geotextiles are:
Retaining walls
Steep slopes
Landslide repairs
Soft-soil embankments
Embankments on very soft soils, combined with vertical drains
Roadway reinforcement
Erosion control in sea embankments and waterworks slopes or beds
Reinforcement of foundation layers
Reinforcement or bridging over potential weak zones, voids or cavities Piled embankments with basal reinforcement.
The application areas for geotextiles and related materials are numerous and are constantly growing.
Some of the more popular ones are listed in Table 2 with the usual geosynthetic material(s) and its functions identified.
(1800)