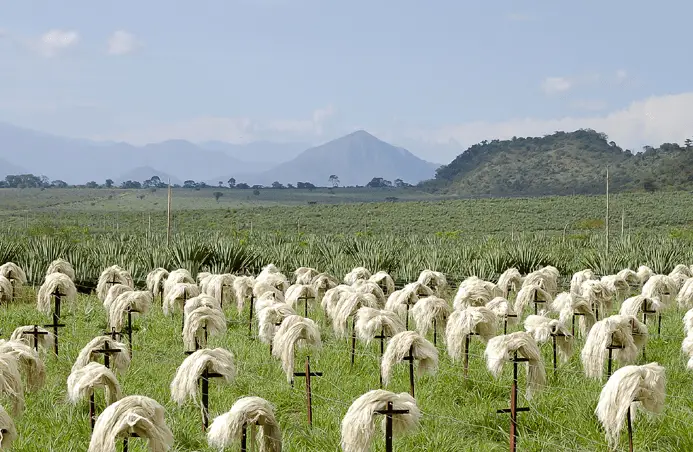 Sisal Fibre | Sisal Fibre Production | Uses and Applications of Sisal Fibre
Sisal Fibre | Sisal Fibre Production | Chemical Composition and Physical Properties | Uses and Applications of Sisal Fibre
---
Sisal Fibre
Sisal, with the botanical name Agave sisalana, is a course and strong fibre which is extracted from the leaves of plant belonging to the agave family. It is traditionally used in the manufacture of such items as matting, rough handbags, ropes, cordage, dartboards especially marine rope (where good resistance to sea water is needed), and carpeting. Sisal cloth is also used to polish materials.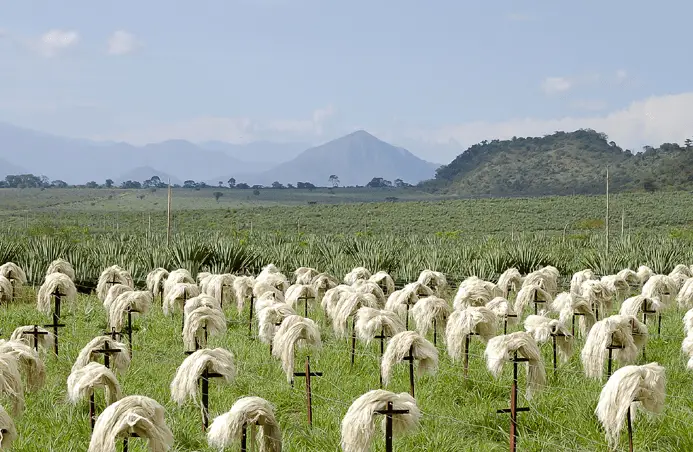 Sisal plants can live for 10-12 years and after sowing, between 1-2 years leaves collection can be started. So, planting sisal and producing fiber can be a solution of poverty problem in poor countries.
   Sisal Producing Countries
In 2013 the global production of fiber accounted for 281,000 tons of which Brazil was the largest producing country, produced 150,584 tons. Sisal is also produced in Tanzania (34,875 tons/year), Kenya (28,000 tons/year), Madagascar (18,950 tons/year), China (16,500 tons/year), Mexico (12,000 tons/year), Haiti (9,000 tons/year). It is economically feasible to the poor northeast religion of the country where around 800,000 people depend on it. Sisal occupies 6th place among fiber plants representing 2% of the world's production of plant fibers.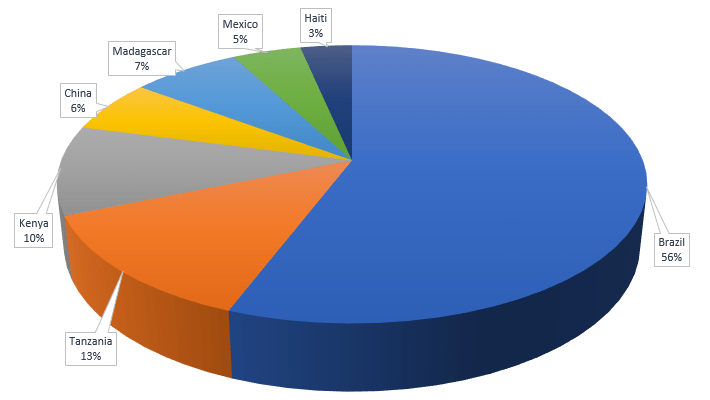 Figure: World Sisal Fibre Production 2013
 Sisal Fibre Production
Sisal fibre is derived from the leaves of the plant. After harvest, the freshly harvested leaves of the agave plant are pressed in machines to separate out the fibers. Subsequently, the separated fibers are washed, dried in the sun, bleached, and combed with rotating brushes. The dried fibre represents only 4% of the total weight of the leaf. The length and diameter of sisal fibre is 80 to 120 cm in length and 0.2 to 0.4 mm respectively.
 Chemical Composition
Though cellulose is the main component of sisal fiber, it is composed of many chemical components
| | |
| --- | --- |
| Chemical Components | Composition ( % ) |
| Cellulose | 71.5% |
| Hemi-cellulose | 18.1% |
| Lignin | 5.9% |
| Pectin | 2.3% |
| Fat and Wax | 0.5% |
| Water soluble matter | 1.7% |
 Physical Properties
 Recyclable
 Does not absorb moisture easily
 Can be dyed easily and dyed color range is quite large
 Untreated sisal exhibits higher tensile modulus and hardness than the unloaded resin
 Tensile strength is maximum at the middle of yarn while moderate at the tip
 Young's modulus increases with fiber length 
 Anti-static
 Uses and Applications of Sisal Fibre
Sisal is broadly categorized under three grades and applied in various industries according to the grades.
Low-grade: cellulose and hemicellulose portion are mainly used
  Paper industry
  Cordage industry
Medium-grade: used in making of binder twine, ropes, bales
  Agriculture
  Marine
  General industrial purpose
High-grade: used by blending itself with wool and acrylic for softer hand
  Carpet industry