Flax Fiber | Chemical Composition | Physical Properties and Chemical Properties | Uses and Application of Flax Fiber
Flax Fiber | Physical and Morphological Structure | Chemical Composition | Physical Properties of Flax Fiber | Chemical Properties of Flax Fiber | Uses and Application 
---
Flax Fiber : Art of producing Linen from flax plant was known earlier than 2500 BC, though flax production was introduced to the industry in 12th century.  Flax fibers have been used for textile utilization such as woven, knitting and technical textiles for many centuries. Raw materials that we get from flax can be applied in bio-polymers, aerospace and automotive industries as well as for production of agro fine chemicals.  In the last few years, new achievements have been made in the research field of bust fibers (especially flax). New varieties, new technology for processing and most importantly broadening the area of application of flax have been achieved.
Physical and Morphological Structure of Flax Fiber : 
Flax is much stiffer due to the cement that holds the fiber bundle together. Fiber bundle consists of many individual fibers of about 25 to 40 mm in length (fiber ultimate) which are cemented together by a mixture of lignin, pectin and hemicelluloses. A fiber cross section has 3 to 6 ultimate cells.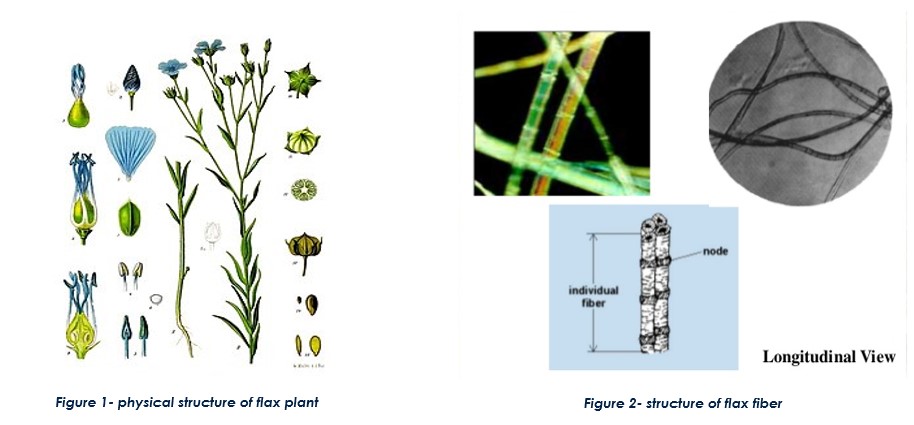 Microscopic View of Flax Plant & Fiber : 

Chemical Composition, Bonds, Structure :
Chemical composition of different compounds is given below: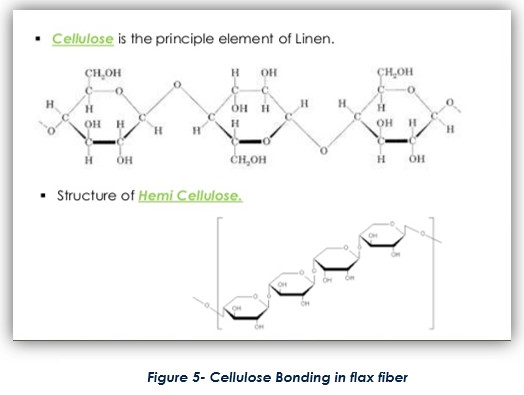 Cellulose : 75%
Hemicellulose : 5%
Lignin : 4%
Fat/Wax : 3%
Ash : 0.5%
Water : 12.5%
Like most other natural fibers flax mostly consists of cellulose. Long chains of cellulose are created via β-1, 4 linkage. The degree of polymerization is 18000 (average) cotton has 5000. So, flax has a longer polymer chain than cotton. Every chain of flax consists of 18000 cellulose units which is 18000 micrometers long and 8.8 nanometer thick.
Physical properties of flax fiber :
Length :  The average length of flax fiber varies from 90-125 centimeters. The length of individual fiber cells varies from 6-65 mm with an average diameter of 0.02mm.

Color:

Brownish, ivory, grey, light, yellowish.
Tensile strength: Tenacity varies from 6.5 to 8 gm/denier.
Elongation: Elongation at break is approximately 1.8 % (dry) and 2.2% (wet).
Specific gravity: 1.54
Effect of moisture: M.R = 12% (std)

Effect of heat:

Highly resistant to decomposition up to 120C. The fibers begin to discolor after crossing temperature limit. Heat conductance is good.
Abrasion resistance: Moderate
Dimension stability: Good but tends to crease easily.
Chemical properties of flax fiber
Effect of acids: flax fiber is easily damaged by high concentrated acids. But it is not affected by low dense acids if washed immediately.
Effect of alkalis: Flax fiber has an excellent resistance to alkalis. It is not degraded by strong alkalis.
Effects of bleaches: Cool chlorine and hypo chloride bleaches doesn't affect flax fiber.
Dyes: It is not suitable for dyeing. But it can be dyed by direct or vat dyes.
Cottonization of flax
'Cottonization' is a process to produce finer and shorter flax fibers which are used in blending with other fibers with lowest level of impurities. It is an upcoming trend of development of natural fiber base material. Fiber bundles are broken down to their ultimate fiber cells via mechanical or chemical means. These broken flaxes are called 'cottonized' flax. These individual fibers are 25 to 40 mm of length. It is used in car construction companies as an anti-noise fabric and also used for medical purposes.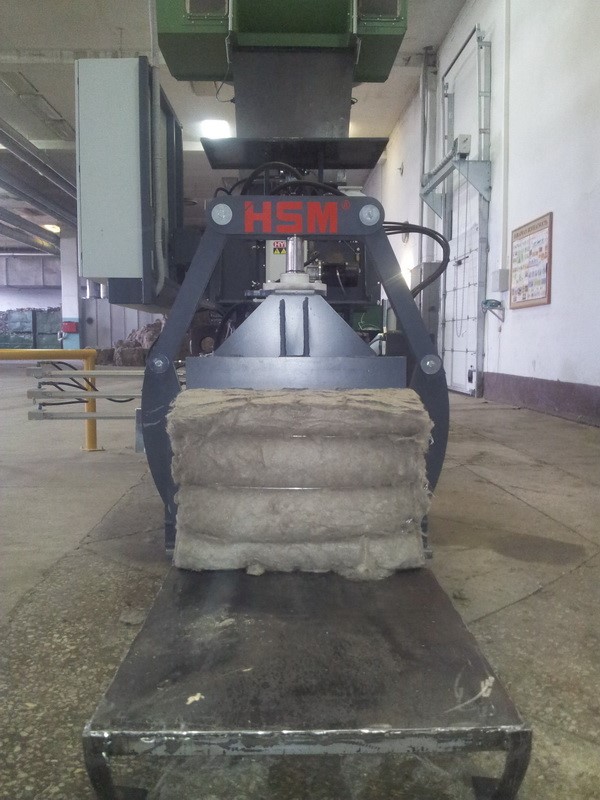 'Cotton' Type flax fiber
Properties of these type are-
Staple length :

unbleached 30-35 mm, bleached 20-30 mm.

Linear density :

unbleached 1.5- 2.9 tex, bleached 1.0- 2.0 tex.

Impurities :

below 0.5%.
Properties of these type are-
Thinness : 30 mm
Linear density : 23 tex
Staple length : 40-120 mm
Impurities : below 1 percent.
Testing process to identify flax
The following tests are performed to identify flax fiber.
Burning test : quick combustion with afterglow
Smell : like burnt paper
Residue : grey, powdery ash
Microscopic view : flax fiber can be identified by microscopic view. It looks like multiple sided cylindrical filament with 5 point edges.
Uses and application of flax fiber :
Flax fiber is used to produce linen fabrics. The uses of linen have changed dramatically since 1970. 70% of linen produced in 1990 was used in apparel textiles. It also has various applications. Such as-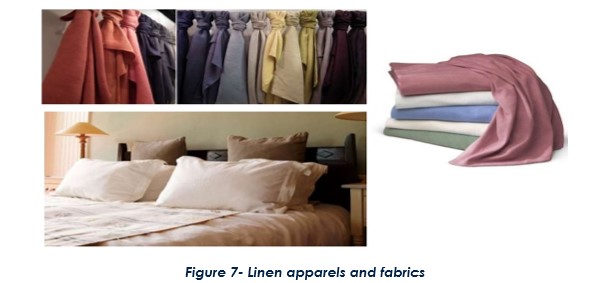 Table wear
Suiting
Surgical thread
Sewing thread
Bed linen
Kitchen towels
High quality papers
Handkerchief linen
Shirting
Draperies
Artist's canvases
Luggage fabrics
Paneling
Insulation
Filtration
Fabrics for light aviation
Automotive end uses
Composite boards
References
Handbook of Natural Fibres- Types, Properties and Factors Affecting Breeding and Cultivation, edited by Ryszard Kozłowski
Industrial Applications of Natural Fibres, edited by Jörg Müssig
Introduction to Textile Fibres by H.V. Sreenivasa Murthy
Bast and Other Plant Fibres, edited by Robert R. Frank.
(6736)