Medical Textile | Classification of Medical Textile
Medical Textile | Classification of Medical Textile | Application of Medical Textiles | Implantable Medical Textiles | Non-Implantable Medical Textiles | Extra-Corporal Devices | Healthcare / Hygiene Products
Medical Textile | Classification of Medical Textile
---
 Medical Textiles:
Medical textiles are such kind of constructions which are used for medical and biological applications for clinical and hygienic purposes, scaffolds for tissue culturing and a large variety of prostheses for permanent body implants. Previously textiles are only used as wound care products, diapers, prostheses and outhouses, wipes, breathing masks, bedding and covers. But in this modern science era textile materials and products that have been engineered to meet particular needs are suitable for many applications as well as medical and surgical application.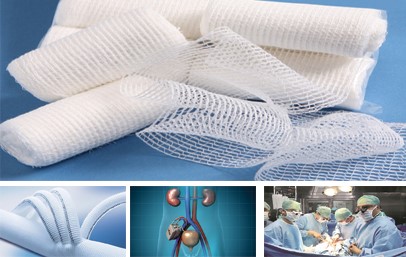 Fibre used in medical textiles must fulfill the following criterion:
The fibres must be nontoxic
Must be non-allergenic
Must be non-carcinogenic
Must be able to be sterilized without impacting any change in their physical or chemical characteristics
Where necessary biodegradable
Where necessary non-biodegradable
Fiber Types Used for Medical Textiles:
1 . Natural & regenerated: Cotton, Silk, Viscose rayon
2 . Synthetic: Poly-amide, Polytetrafluoroethylene (PTFE), Polypropylene, Carbon, Glass
3 . Specialty fibers:      
Collagen: Biodegradable protein fiber or hydrogel (gelatin). This is obtained from cow skin. Collagen fibres when used as sutures are equally strong as silk, and they are biodegradable.
Alginate: Biodegradable fibers made from seaweed. Calcium alginate fibres have been proven to be would healing. Wound dressings made from such fibres are nontoxic, biodegradable.
Chitin: This is a polyacrylamide from crab and shrimp shells. It can be absorbed by the body and promote healing. Artificial skins made from Chitin non-woven fabrics stimulate new skin formation.
 Classification of Medical Textile 

Implantable medical textiles:
Implantable products are biomaterials which are used for wound closure (e.g. suture), replacement surgery (e.g. vascular graft, artificial ligaments etc.) Another important category of implantable products is soft-tissue implants. These are flexible strong materials commonly used to replace tendons, ligaments and cartilage in both reconstructive and corrective surgery. Suspensors and reinforcing surgical meshes are used in plastic surgery for repairing defects of the abdominal wall.
Non-Implantable medical textiles:
Implantable medical textiles are used for external applications on body that means those are used outside the human body to assist the recovery of wounds are called non-implantable medical textiles. Non-implantable products are typically used to provide protection against infection, to absorb blood and exudates and to promote healing. The term non-implantable is used generally to indicate surface wound treatments of different parts of the human body.
Extra-Corporal Device:
Extra corporal devices are mechanical organs that are used for blood purification such as apheresis, hemodialysis, hemofiltration, plasma-pheresis or extra corporeal membrane oxygenation. There have been artificial kidney, liver and mechanical lung. The making of these devices requires precise design and manufacture. Requirements needed for these devices – anti-allergenic, anti-carcinogenic, resistance to micro-organisms, antibacterial, non-toxic, and the ability to be sterilized.
Healthcare/Hygiene Products:
These products are related to daily uses in hospitals and health care industries. These include bedding, clothing, surgical gowns, cloths wipes and so on. All fibers are used in this product must be non-toxic, non-allergenic, noncarcinogenic and must be able to be sterilised without imparting any change in their physical or chemical characteristics. The range of this products available is vast but typically they are used in the operating room theatre or on the hospital ward for the hygiene, care and safety of staff and patients. Production of hygiene and medical textiles is on increase, as is the variety of applications in this important sector. By 2005, hygiene and medical textiles valued at US$4.1 billion, almost 12% of the global technical textiles market. 
Medical Textile | Classification of Medical Textile | Application of Medical Textiles | Implantable Medical Textiles | Non-Implantable Medical Textiles | Extra-Corporal Devices | Healthcare / Hygiene Products