Broken and Rearranged Twill
Broken or reversed twill
Features of broken or reversed twill
 It is formed by breaking the twill line of basic twill.
 A large variety of attractive effects can be produced by this twill.
 It is formed by dividing the basic twill repeat in two, three, four or more groups.
 Normally straight draft is used to produce this weave.
 It has no directional effect.
 Types: i) Warp way
                 ii) Weft way
Uses: Shirting, Siting, Jeans, designed fabric etc.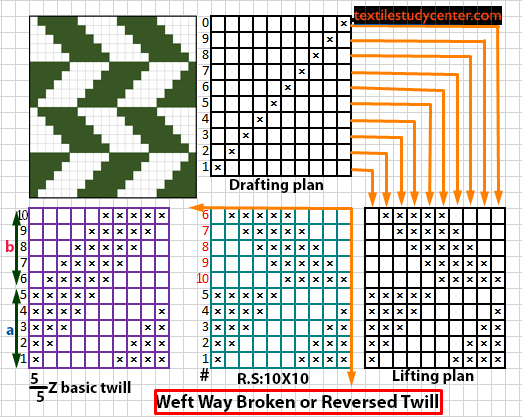 Rearranged /Transposed Twill:
Features of rearranged or transposed twill
 It is produced by the rearrangement or transposition of the original order of the threads in the regular basic twill.
 This types of construction produces attractive designs.
 Straight draft is used.
 Appearance of some rearranged twill is same as broken twill.
 This twill weave is constructed by the following different methods.
  i) By rearranging the yarns individually
 ii) By rearranging the yarn group wise
        iii) By cork-screw weave. They are two types
                   ❶ Odd no. cork–screw weave
  ❷  Even no. cork-screw weave