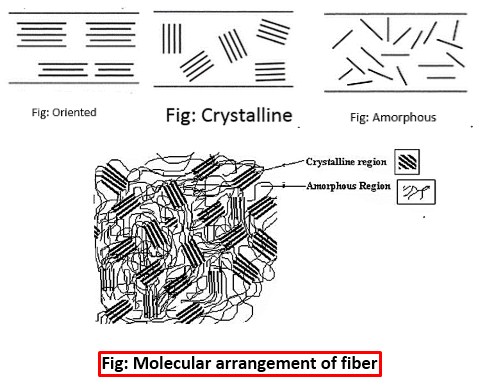 Crystalline and Amorphous Structure of Fiber
Physical Structure of Fiber
Fiber physics is the study of the structure and physical properties of fibers.
Molecular arrangement of fiber
Basically three types of structural arrangement are shown on the fiber-
           ❶ Orientation
           ❷ Crystallinity
           ❸ Amorphousness
Orientation: When the polymer chains are aligned parallel to the long axis of the fiber, the arrangement is called orientation. Crystallinity and orientation contribute to fiber strength.
Effects of Orientation:
⦿ The molecules slide over each other.
⦿ The molecules turn into the direction of the drawing, that's why after being drawn the fiber axis is oriented parallel.
⦿ Increased fiber crystallinity.
⦿ Fiber properties are modified by the increase in the degree of orientation.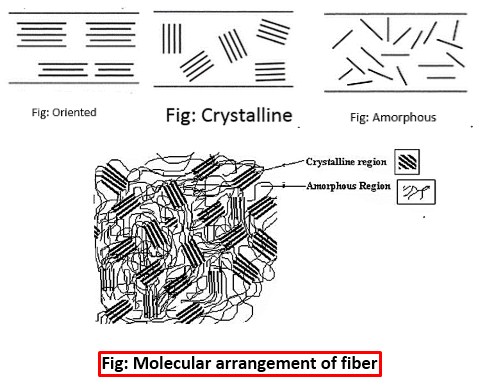 Crystallinity:
Crystallinity refers to the degree of structural order in a fiber molecule. In a crystal, the molecular chains are arranged in regular manner and periodic.                                  
Amorphousness:
Amorphous region of the fiber is defined as the region of the fiber where there is no longer the order of chain molecules. The polymer chains are randomly placed in amorphous region. As a result, there is more air space in the amorphous fiber.   

(12342)