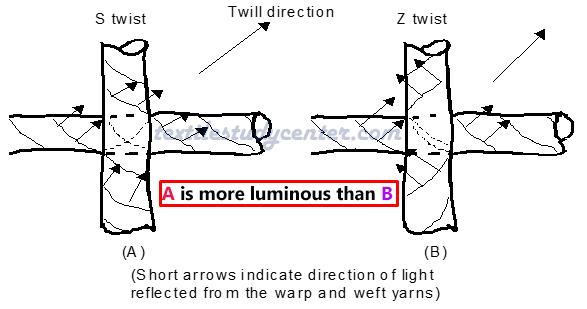 Effect of Twist on Yarn and Fabric Properties
Effect of twist on yarn and fabric properties
The twist in yarns can be caused to affect the properties of the fabric in which the yarns are included. Major yarn and fabric properties are listed below.
❶ Yarn strength
❷ Handle
❸ Moisture absorption
❹ Wearing properties
❺ Aesthetic effect
❻ Crepe effect
❼ Curling effect
Yarn strength: 
 Yarn tensile strength increases in staple fiber yarns as twist increases up a certain twist level known as 'optimum twist'.
 Beyond this point, the strength of the yarn begins to decrease.
 On the other hand, filament yarns are stronger untwisted, and the strength decreases as twist increases.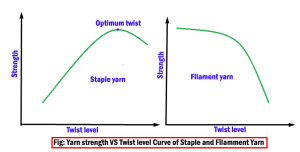 Handle:
 Yarn with higher twist levels is smooth. They are hard yarns that are less hairy and therefore relatively lustrous. When such yarns are woven into fabric, the fabric feels smooth, hard and stiff.
 Conversely a fabric produced from a low-twist yarn will be comparatively soft and limp.
Moisture absorption:
 High twist in a yarn holds the fibers together thus restricting water to enter.
 Very highly twisted yarn is used where a high degree of water repellency is required (e.g. in gabardine fabric).
 Low twist yarn is used where absorbency is required.
Wearing properties:
 The level of twist has effects on two aspects of wear: abrasion and pilling.
 A high level of twist helps to resist abrasion as the fibers can't easily be pulled out of the yarn.
 The same effect helps to prevent pilling which occurs when fibers are pulled out of the fabric construction and rolled into little balls on the surface.
Aesthetic effect:
 When yarns are incorporated in a fabric such that adjacent sets of yarn vary in the direction of twist, different effects like the shade effect, stripe effect etc. can be produced because of light reflecting from two sets of yarns.
 Prominence of twill lines in a fabric largely depends upon the direction of twist in warp and weft yarns. (Example: If the warp of a twill has Z twist and twill line runs 'down to the left', then the use of an S-way weft subdues the twill line. Conversely, the use of a Z-way weft will produce a bolder twill line)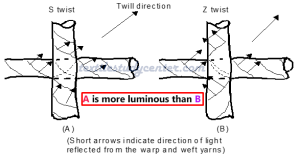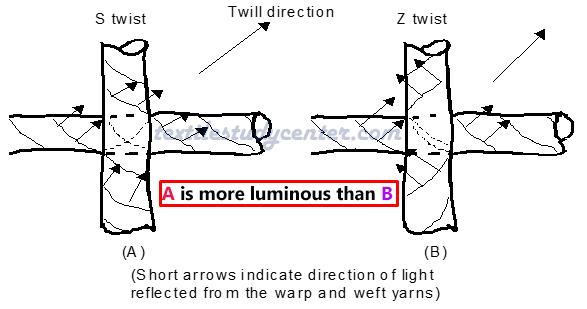 Crepe effect:
 Very highly twisted yarn will be lively and tend to twist upon itself to produce snarls.
 Fabrics made from highly twisted yarns will process a lively handle.
 Crepe yarns have high twist factors (5.5-9.0) and are used to obtain the crepe surface on the fabric.
Curling effect:
 The tendency for yarns to untwist can cause the fabric to curl, especially at the corner.
 Curling will occur if the untwisting couples of the warp and weft yarns reinforce each other instead of counter acting each other.
(10512)