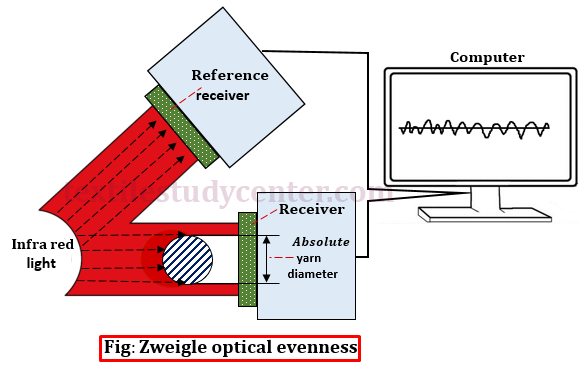 Methods of Evenness Testing
Methods of Evenness Testing
Mainly two methods are used for measuring yarn irregularity.
Capacitive method (Uster evenness tester)

Optical method (Zweigle G580)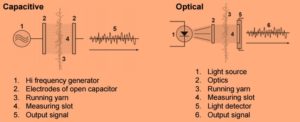 Capacitive method/Uster evenness tester:
 In this case the principle is that the current flow through the capacitor alter with the material amount inside the two plates of capacitor.
 So if yarn passes through the capacitor plate, the current flow change with respect to thickness/mass of the yarn, thick thin places.
 This signal then processed by digital processor to get mass variation.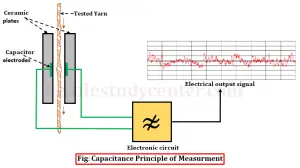 Optical method (Zweigle G580):
 The optical method measures the variations in diameter of a yarn and not in its mass.
 The instrument an infra-red transmitter and two identical receivers.
 The yarn passes at speed through one of the beams, blocking a portion of the light to the measuring receiver.
 The intensity of this beam is compared with that measured by the reference receiver and from the difference in intensities a measure of yarn diameter is obtained.
  For a constant level of twist in the yarn the mass of a given length is related to its diameter by the equation:
                                                    Mass = CD2
                                    Where, C = constant
                                                    D = diameter of yarn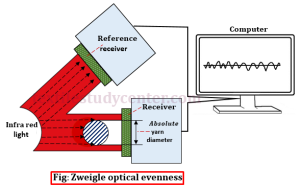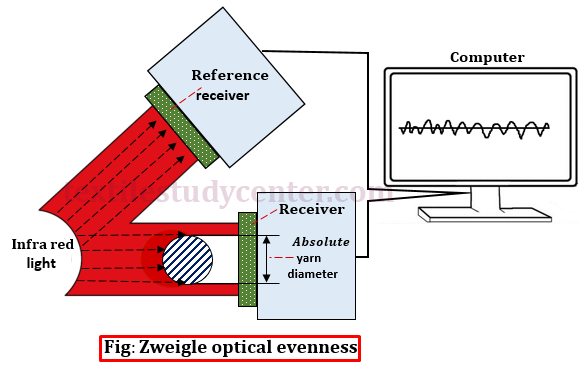 (4761)