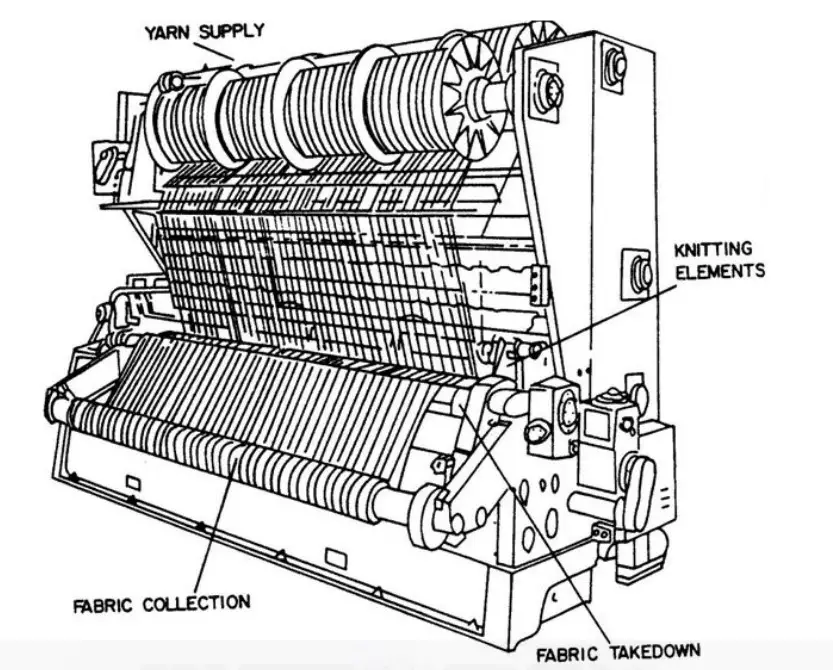 Types Of Warp Knitting Machines
Types Of Warp Knitting Machines
Warp knitting is defined as a loop forming process in which yarn is fed into knitting zone , parallel to fabric selvedge .
In warp knitting , fabric is made by forming loops from yarns coming in parallel sheet form run in the direction of fabric formation . ( warp beam like in weaving )
So that warping process is essential for warp knitting .
Every needle is fed by a separate yarn for loop formation . In order to connect the loops into a fabric , the yarns are shifted between the needles .
All the yarns will be knitted in course simultaneously.
For the purpose of shifting yarn , guide will be used.
Warp knitting machines are flat and comparatively more complicated than weft knitting machines.
Types Of Warp Knitting Machines :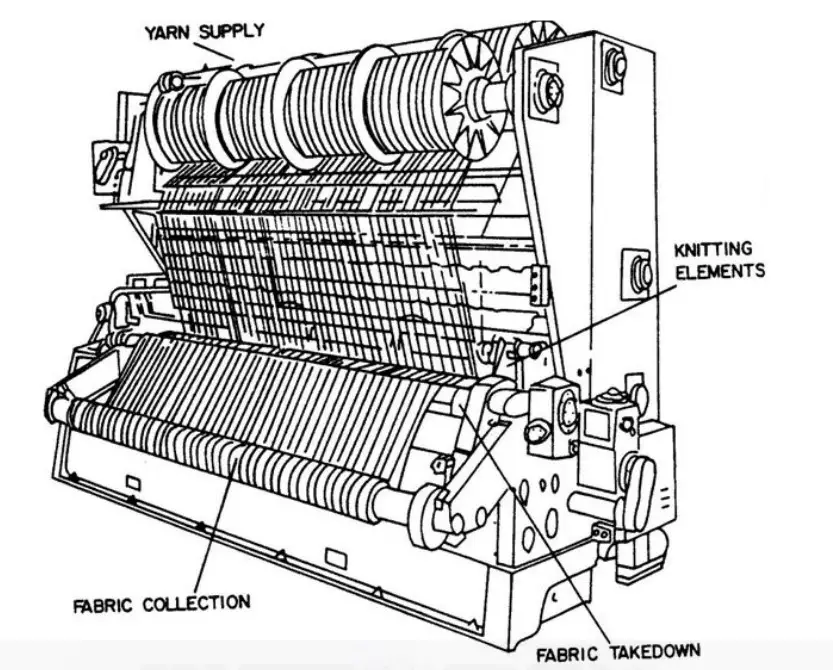 1 .  Tricot machine
      2 .  Raschel machine
Tricot Warp Knitting Machine :
Features :
Initially only bearded needles were used .
Fine filaments are knitted .
Machine gauge up to 24 to 40( here gauge is number of needles per inch)
Fabric is pulled at right angle to needle .
Sinker controlled fabric throughout the knitting cycle.
Low fabric take down tension.
Number of guide bars usually not more than four.
Machine speed is high ( up to 3500 courses per min )
Machines are wider and comparatively simple structures are produced .
Warp beams are positioned at the back side of the machine .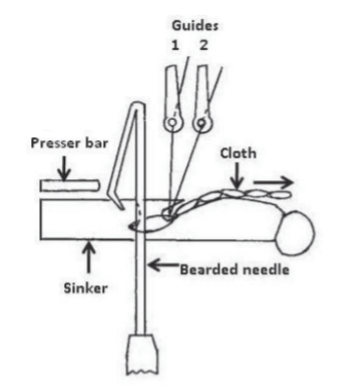 Raschel Warp Knitting Machine :
Features :
Initially latch needles are used .
More versatile – number of guide bars up to 16.
Suitable for outer wear and furnishing .
Any type of yarn can be used .
Fabric controlled by high take down tension .
Sinkers hold fabric only when the needles raise .
Fabric pulled at about 160 degree to needle . machines are made in coarser gauges 24 to 64 ( here gauge is defined as number of needles per two inch )
Machines are narrower and comparatively lower speed ( up to 2000 courses per min )
Warp beams are positioned at the top of the machine .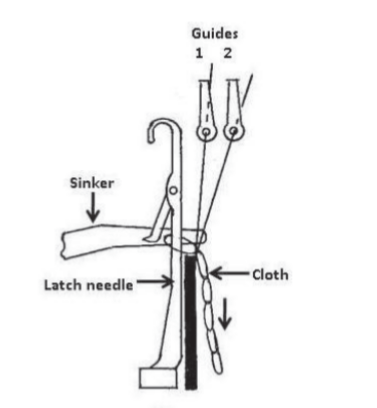 Advantages  :
Due to the simultaneous knit , production rate will be much more higher than the weft knitting.
The yarn is in criss-cross form to the adjacent wale line , so that dimensional stability will be much higher.
Elongation of the fabric will be less.
Applications  :
Warp knitted fabric will be used for apparel ,fashion fabric and technical textiles.
Apparel : Mens formal
Technical textiles : Medical textiles and auxetic textiles .
(7867)