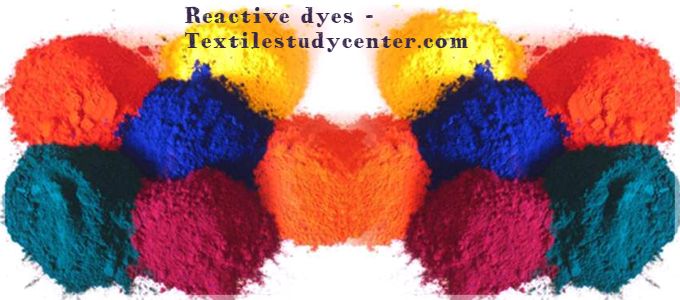 Reactive dye || Reactive dye features || Reactive dye classification
REACTIVE DYE
Reactive dye is only dye that reacts with the textile fibre & makes covalent bond with fibre.Under the suitable condition it reacts with –OH or –NH2 of the fibre & forms covalent dye substrate linkage.
DYE-SO2-CH2-OSO3Na + HO-Cell ———- D-SO2-CH2-CH2-O-Cell  + NaHSO3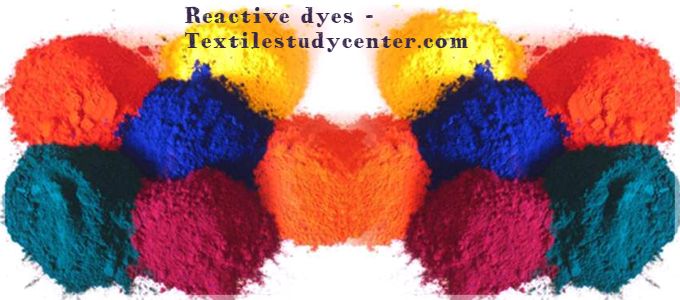 FEATURES of REACTIVE DYE
      1. Water soluble.
      2. Reacts with fibre & makes covalent bond.
works in alkaline condition Ph >10.
      4. Dye cellulosic ( Cotton,viscose,linen,flax, jute) & Protien ( wool,silk)
      5. Excellent fastness property.
      6. widely used
      7. cheap
      8. Needs salt & soda for dyeing.
      9. Anionic in nature.
WHY CALLED REACTIVE DYE
They contains reactive group in their structure. It reacts with fibre end groups. That"s why it" s called reactive dye.
STRUCTURAL FEATURE
Dyes contain several group. Such as :
        W-D-Q-RG-X
   W-water soluble group ( -NH2, -NH-CH3, -OH, -NO3 COOH, SO3Na ,NO2)
   D-chromophore group ( anthraquinone, azo , phthalocyanine, metal complex)
   Q– linker (-NH-, -NH-CO-, -NH-CO-NH- )
   RG– reactive group ( vinyl suiphone, pyrimidine, triazine )
    X– leveling group
All this part make the dye water soluble & strongly attached with the fibre.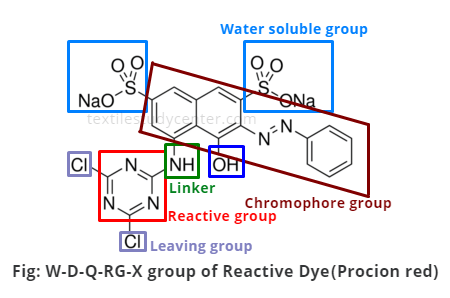 CLASSIFICATION
        ) ON BASIS OF REATIVE GROUP
         ) ON BASIS OF REATIVITY
A) ON BASIS OF REATIVE GROUP
      1.Hetaro cyclic copound
             a.Triazine
             b.Pyrimidine derivative
             c.Quinonaline
       2.Activated vinyl
             a.vinyl sulphone
                  1.  vinyl acryl amide
                  2.  vinyl sulphonamide.
B.ON BASIS OF REATIVITY
         1.Lower reativity
         2.medium reativity
         3.higher reativity
1. ON THE BASIS OF TEMPERATURE & METHOD
                A. Cold brand
                B. Medium brand
                C. Hot brand
MAIN PROBLEM OF REACTIVE DYE
Main problem of reactive dye is hydrolysis . As Reactive  dye contains reactive part which mainly reacts with cellulosic -OH group. Unfortunately water contains -OH group. As huge amount of water is used for dyeing reactive dye first reacts with water & waste a lot of dye. This is the main problem of reative dye.
DYE- Cl + HO-Cell——– DYE – O-Cell + H-Cl
DYE-Cl + H-H0———- DYE-OH + HCl
(2143)