Auxilaries Of Disperse Dye
Part 1 : Disperse Dye for Polyester | Why called disperse dye | Application and mechanism 
Part 2 : Method of polyester dyeing | Polyester Dyeing process
  Auxilaries Of Disperse Dye
. Carrier :
The extreme crystalline nature of polyester fibre creates problem in obtaining dark shade by conventional dyeing method even at high temperature. The  carrier are found to assist the disperse dyes to enter the polyester polymer. The carriers swells the polyester fibre  &  increase the inter polymer space & let the dye molecule to inter into the fibre easily.
  Properties :
❶  Low molecular weight.
❷  Organic compound.
❸  Mainly aromatic compound of low water soluble.
❹  Anionic emulsifying agent.
❺  Lowering Tg thus promote chain movement & create free volume.
  SELECTION CRITERIA
When selecting a carrier for use in dyeing of polyester following point should be considered………
❶  High carrier efficiency.
❷  Availability at low cost.
❸  Little or no effect on light fastness.
❹  Absence of unpleasant odor.
❺  Non toxic
❻  No degradation or discoloration
❼  Easy removal from the bath
❽  Compatibility with dye.
❾  Volatile
  Chemical used as carrier
❶  Phenol
❷  Benzoic salylate
❸  O-phenol
❹  Di-phenol
❺  P-phenol
❻  Salicylic acid
  Advantage
❶  m/c can be operate in atmospheric pressure
❷  reducing dyeing cycle
❸  improve fastness properties .
❹  level dyeing
  Disadvantage
❶  Unpleasant odour.
❷  Used only for blend of wool & polyester.
 .  Dispersing agent
Disperse dye produce dispersion in water. To uniform dyeing bath should be stable dispersion & this is why a special chemical is used in dye bath named dispersing agent. They should be effective under dyeing condition, stable to hard water, high temperature  & other dyeing assistants.
Disperse dye are smallest dye. They form aggregation when they are applied to the bath. They produce a lamp & create a large size particle. This could not enter inside the polymer so dye particle should be individualized to enter inside the fiber. So dispersing agent is added. It separates the particle & produces dispersion in the dye bath.  

  Function of the dispersing agent
The dispersing agent performs many function .such as……
❶  Assist the process of particle size reduction of dye .
❷  Enable the dye to be formed in the powder form
❸  Maintain the dispersion in a fine form throughout the dyeing process.
❹  Increase the stability
  Solubility effect: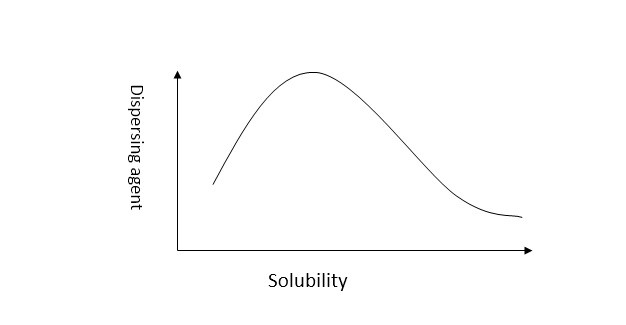 Chemicals used as dispersing agent
❶  Soap powder
❷  TRO
❸  Alkylaryl sulphonate
❹  Nopholene-B- sulphonate
❺  Formaldehyde
❻  Setamol BASF
❼  Edalon Sandoz
  Criteria of choosing the disperse dye for combine shade
❶  The dyes should have or nearly same substantivity towards the fibers.
❷  The dye should have same hydrophobicity.
❸  Their characteristic should be same or nearly same.
❹  Should be same energy level
❺  Should have same dyeing method
❻  Same diffusion number
  Diffusion number
The number provides a basis of selection dye for producing combination shades
  Trade / commercial name of dispersing agent
| | | |
| --- | --- | --- |
| NAME | MANUFACTURER | COUNTRY |
| Artisil | sandoz | Switzerland |
| ciba | ciba | Switzerland |
| dispersol | ICI | UK |
| samron | hoechest | West Germany |
| terasil | ciba | Switzerland |
Part 1 : Disperse Dye for Polyester | Why called disperse dye | Application and mechanism 
Part 2 : Method of polyester dyeing | Polyester Dyeing process
(1522)