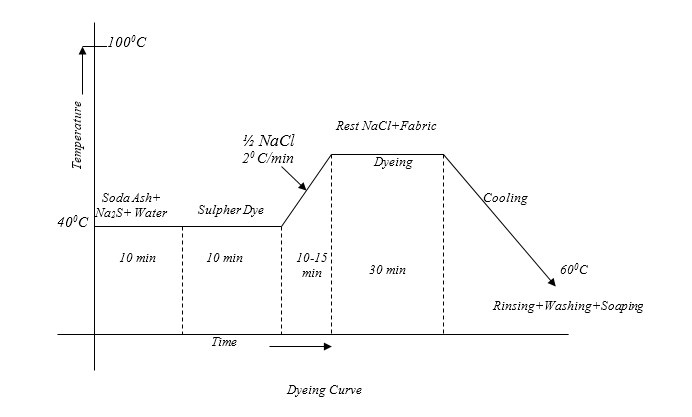 Defects of Sulfur Dyeing Part 3
  Defects of sulfur Dyeing :
They are mainly two defects which are common in sulfur dyed textile materials:-
Bronziness or Dullness of shades
sulfur Black tendering
Now they are Described below:-
  Bronziness of Shades :
 This is a common defect found in sulfur dyed textile materials. 
Causes:     
The causes are as below:-
Excessive delay between lifting of the material from the dye bath and washing off.
Exposure of goods to air while dyeing.
Too much use of common salts as exhausting agents.
Insufficient Na2S (i.e. reducing agent) in dye bath. As a result of which dye is incompletely reduced.
Strong dye liquor in the dye bath.
Remedies:
The remedies are as below:-
Good washing and dilute solution of Na2S (0.1%) at 300C or,
A treatment with boiling soap solution or a strong Na2S solution or,
A treatment with a solution containing 10% salponified palm oil at 600C or,
a) Ammonia                     :           125-200 gm/100 litre or, 1.25-2 gm/litre
                        T.R Oil                        :           200-300gm/100litre or, 2-3 gm/litre.
                        Time                            :           15 minutes
                        Temperature                :           Water Bath
Or,
  b) Olive Oil soap             :           2-5 lbs/100 Gallon
                        Olive Oil                     :           1-2 lbs/100 Gallon
                        Soda Ash                     :           1-2 lbs/100 Gallon
                        Time                            :           15-30 minutes
                        Temperature                :           600C
  Sulfur Black Tendering:
            If sulfur dyed textile materials are stored (weakening) tentering effect is seen on the cellulose. Due to storage a part of the sulfur colour converts in to H2SO4 by oxidizing which in turn causes degradation of cotton by hydrolysis. It is a serious problem of sulfur dyed goods.
 Causes:      
The causes are as below:-
Gradual oxidation of sulfur to H2SO4 on storage.
After treatment with copper salts causes rapid tendering.
Presence of iron as an impurity causes rapid tendering.
The method of oxidation for the recon version to insoluble form influence tendering.
Remedies:
The remedies are as below:-
Treatment of dyed material with 1-3% K2Cr2O7 and 1-3% CH3COOH at 600C temperature for 30 minutes followed by through rinsing.
Treatment with a little CH3COOH so that H2SO4may be converted in to harmless acetic acid.
Using 5 gm/litre soda ash after dyeing followed by drying without rinsing.
  Stripping of Sulfur dyes:
            Unevenly Dyed shades on cellulosic materials with sulfur dyes may be corrected by a treatment with a worm solution of Na2S in the presence of Albigen A (polyvinyl pyrolodine)
            If this method is found to be in effective then the uneven dyed material may be treated with a solution of a NaOCl or bleaching powder (2-3 gm/Litre of available chlorine).
            In some cases bleaching with KMnO4 solution may be effectively carried out. In other cases the dyed material may be treated with worm NaOCl solution in the presence of NaOH.
The uneven dyeing of material causes due to the following reasons:-
The oxidation of dye during dyeing when the material comes in contact with air.
Presence of gummy material on the fabric.
Defective Dye.
  Uses of Sulfur Dye:
To dye Umbrella cloth with sulfur black.
To dye cotton fabric eg-lining boot.
To dye rubber material hence after treatment by CuSO4 is necessary
  S-Radical in Sulfur dye:
            In case of tendering of sulfur, due to storage lose of strength occurs and forms to sulfur radical. Three types of sulfur radical are present in sulfur dyes as below:-
Mechanically free sulfur : Air+S= H2SO4
Stable sulfur: 70%-80%, not easily oxidized.
Chemically active sulfur : 20-25%
  Colors/Shades found from Sulfur dyes:
Red : not good, not pure red color.
Black, blue, brown : Excellent Shade.
Others : Olive, Orange, green etc.
  Causes for the Popularity of Producing Black Shades with Sulfur Dyes:
Low cost
Fair to good light fastness
High Wash fastness
Easy to apply
Low energy required
Chemical resistance is moderate to good.
Wide range of shades especially on heavy, durable shades on apparel fabric.
  Comparison between Sulfur & Vat Dyes:
Subject

    Sulfur Dye

         Vat Dye

1.   Molecular Size

1.      Dye molecules are very Large

1.    Smaller than Sulfur

2.   Shade

2.      Gives dull shade due to varying conditions

2.    Gives bright shades

3.   After reduction

3.      Smaller size molecules are obtained

D–S–S–D+[H]  à D–SH + SH–D

3.    Vat dyes are reduced as below

 

 

 

 

4.   Fabric Dyed

4.      Cotton, Rayon, Nylon & P/C

4.    Cellulose Rayon etc

5.   Hydrolysis

5.   Under high temperature and Humidity

5.    Susceptible to hydrolysis i.e. easy to Hydrolysis.

6.   Wash Fastness

6.   Good to very good

6.    Excellent

7.   Price

7.  Cheaper than Vat dye

7.    Very costly dye

8.   Light fastness

8. Good to very good

8.    Excellent for anthraquinone.

10.  Sulfur linkage

9.  Contain Sulfur linkage

9.    No Sulfur linkage is present.

10.   Ionization

10.  The dye molecules are negatively ionized after reduction

10.     Same
  Reasons for why so called:
            The dyes are so called as they contain sulfur linkage within their molecules but dissolved in a solution of sulphide which acts as a reducing agent, breaking the sulfur linkage and converting the molecules into simpler components Water insoluble sulfur dye molecule)which are soluble in water and substantive towards cellulose.
Dye–S–S–Dye
Reference
   Broadbent A D 2001 Basic principles of textile coloration Society of Dyers and Colourists p 566
    Shenai V A Chemistry of Dyes and Principles of dyeing
   Carr C M 1995 Chemistry of the Textiles Industry (Dordrecht: Springer Netherlands)
  Chakraborty J N Fundamentals and Practices in Colouration of Textiles
  John Wiley & Sons Inc 2000 Kirk-Othmer Encyclopedia of Chemical Technology (Hoboken, NJ, USA: John Wiley & Sons, Inc.)

 Ühnel G E R D K, Aktiengesellschaft B, Olff J O W, Ag B, Uppert G Ü R, Aktiengesellschaft B, Chmitt M I S, Aktiengesellschaft B, Etired C H H E I D R, Ag C, Etired M A X H Ü R, Aktiengesellschaft H, Etired H E L E R and Aktiengesellschaft B 2016 Textile Dyeing , 2 . Dyeing of Cellulose Fibers 1–27

   Hunger K 2003 Industrial Dyes: Chemistry, Properties, Applications
   Rahman M M Wet Processing 1

  Iqbal M 2008 Textile Dyes 167

  ARNOLD R. LANG DYES AND PIGMENTS: NEW RESEARCH
(1450)