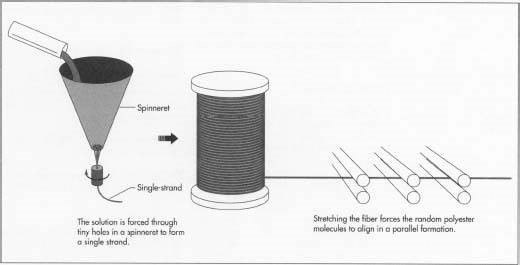 Drawing Of Synthetic Fibres
Drawing Of Synthetic Fibres
  Introduction:
With the exception of silk , all the filaments are manufactured from man-made materials . silk is a natural filament.
The man-made materials are primarily made from chemicals that must be formed and solidified into fibre form.
The fibre forming polymers are normally solids and therefore must be first converted into a liquid form to be suitable for extrusion.
  Drawing:
Drawing is very important process of spinning.

This process used to increase the orientation of polymer molecules.

It produce filament with desired strength.
  Undrawn fibre properties:
Semi-crystalline
Lamellar structure
Amourphous region
Low rigidity and strength but high elongation
  Crystalline and strength:
Drawing process increases tensile strength and hardness of filament.
It orients the polymer molecules along the filament.
  Properties induced by drawing:
High degree of orientation of polymer molecules that tends to increase fibre stiffness.
More breaking strength.
Low moisture absorption.
More luster and transparency.
Fibrillar structure.
More dimensional stability.
  Objective of drawing:
To induce the molecular orientation in the fibre.
Thereby increasing their strength in the direction of stretch.
Extension of the filaments to many times their original length.
  Purpose of drawing:
The primary purpose of drawing of yarn is to be a desirable quality for the following reasons :
To increase the crystalline zone in fibres.
To produce fibres with the specific properties desired.
To convert relatively week spun fibres to fibres with greater molecular orientation and the resulting greater strength.
To produce filaments with a desired strength by inducing sufficient orientation of the polymer molecules along the axial direction.
  Draw ratio:
       The ratio between the take-up roller and the extrusion rate is known as draw ratio.
If we increase the take-up speed draw ratio will be increase.that means fibres will be stretched according to our requirement.
  Types :
Low oriented yarn(LOY)
Partially oriented yarn(POY)
Fully oriented yarn(FOY)
LOY : There is no orientation as well as crystallinity.
POY: There is a orientation without crystallinity.
FOY: There is a orientation with crystallinity.
| | |
| --- | --- |
| Type | Spinning speed |
|   LOY | 500-1500 MPM |
|   POY | 1500-4000 MPM |
|   FOY | 4000-6000 MPM |
Principle of drawing :
The drawing process of the fibre involves passing the fibre tow over a series of rollers.
The roller rotates at specified constant angular velocities,each faster than older.
In some processes all the draw is introduced in one step,in a single stage of feed and take-up rollers.
This single draw can results in fibre breakage so it customary to involve more draw processes in the industries.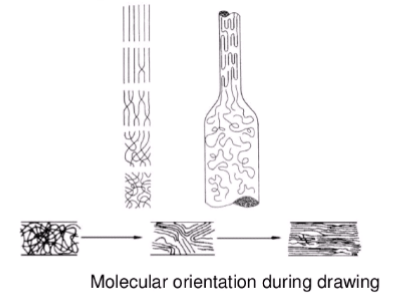 Two stage drawing process :
In this process most of the draw was provided in the first stage ( between 2.2 and 2.7 draw ratio) and relatively smaller draw (1.1 – 1.2) in the second stage.
As the number of stages is increased , it is possible to keep each free span and roller at a different temperature .
It induce maximum molecular orientation in the fibre.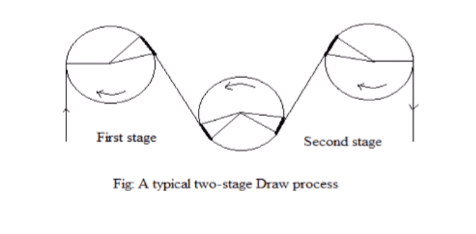 Impact of drawing :
Fibres change in appearance as they are drawn
Example :
 Nylon is usually dull and opaque , but after the drawing it will be transparency and luster.
The more closely the molecules pack together , it has greater ultimate strength.
Due to the increase of ultimate strength decrease in elongation before reaching it breaking point.
More stiffness and rigidity because of molecules are packed compactly , so that resistance of movement.
More resistance to penetration by the foreign molecules also improves resistant to chemical attack.
  Errors in drawing :
There is a number of drafting stages , the results are cumulative and the range of error wavelengths can be very large.
  The biggest advantage of POY :
POY are used in texturising process.
For a texturising operation POY is better than FOY. Why ?
     We know that texturising is the thermo mechanical process.if we need to texturise the FOY 
Soft the material
Then bring the form and set it.
FOY will be soft in melting point , also we have decrystallize the FOY because FOY contains more crystallization regions.
   But in the POY no need for decrystallize , directly bring the form and set it . so that POY is better for texturising process.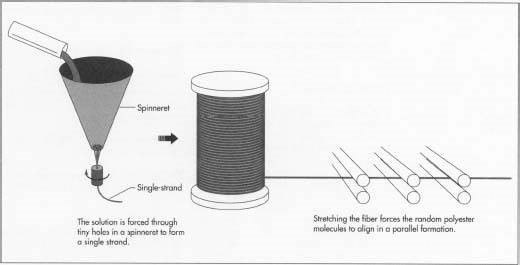 (3002)